Maureen Duffy
This Strandlines special collection brings together material related to Maureen Duffy's life, work, activism and research.
Contributions by scholars, colleagues and friends are published here, along with rarely seen archival material.
Maureen Duffy is a playwright, poet, novelist and biographer—her output totalling some 40 published works. She is also an activist, having spent much of her life campaigning for authors' rights, human rights, gay rights and animal rights. In the field of copyright, in particular, she has established many initiatives to ensure authors are paid for the use of their works.
Duffy was an undergraduate at King's College London in the 1950s, which she subsequently re-imagined as 'Queen's College London' in her novel Capital (1975). King's now hosts her archive, and the Strand Campus windows feature a biographical installation dedicated to her achievements.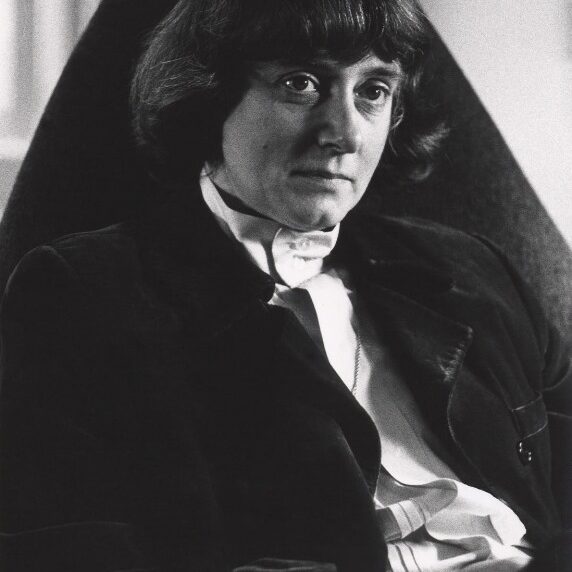 2013: Maureen Duffy at 80: In Times Like These
In 2013 King's hosted 'Maureen Duffy at 80: In Times Like These', a day celebrating Maureen's life, work and 80th birthday, as well as the launch of her 2013 novel, In Times Like These.
The day consisted of poetry, readings, talks, memories and music by friends, scholars, colleagues and writers. Here, you can read a selection of papers given on the day, as well as contributions from friends and colleagues who could not be there but who provide deeper insights into the significance of Maureen's work over a lifetime.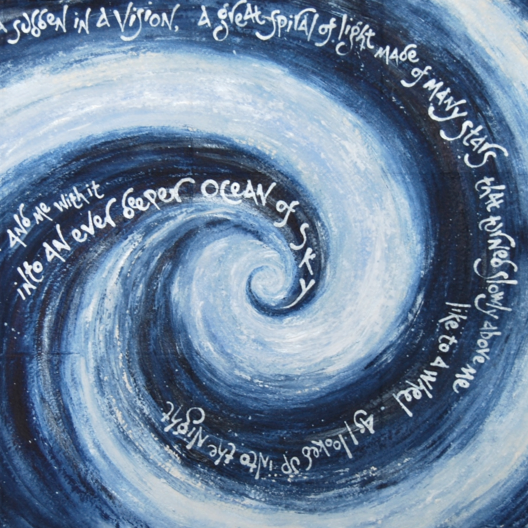 2015: 'Windows on Maureen Duffy', with Liz Mathews
As part of King's Arts and Humanities 'Fabrication' themed Festival in October 2015, Windows explored Maureen's place in the fabric of King's using material from her archive, held at the College.
This special event also  marked the collaboration between Maureen and lettering artist Liz Mathews. Mathews set Maureen's love poetry collection, Songs for Sappho, to handmade paper. The pieces were presented as an installation, Paper Wings, at Enitharmon Books.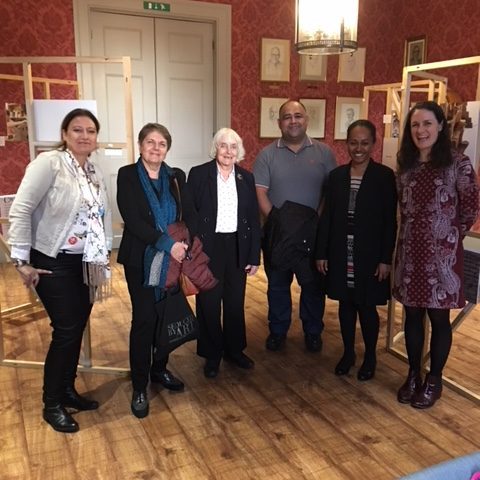 2017: Postcards from the International Authors Forum
'Postcards from the International Authors Forum' was held as part of the King's Arts and Humanities 'World Service' festival in 2017. The evening celebrated Maureen's services to authors worldwide.
Archives, films, presentations and writing discuss the importance of supporting the work of authors around the world and in recognising the contributions they make to humanity.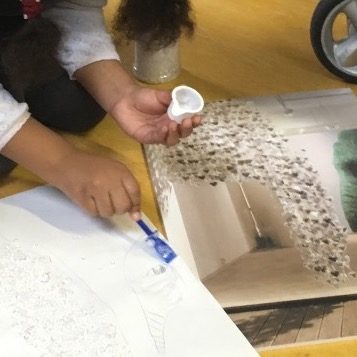 2019: 'Instead of plain English we spoke coloured': Duffy, London, Babylon
Supporting linguistic and cultural diversity are fundamental to Duffy's work. In 2019 the material contributed to the 'Postcards' event was used in a community initiative in Shepherd's Bush, West London, the creations from which are documented here. 
Also read how Duffy's poem 'Mother Tongue' (2018) and the 2019 international theatre production 'Babylon: Beyond Borders' use the Tower of Babel mythology to give voice to the many heritages, languages and cultures that still flourish in London despite the 'glass, steel and concrete' veneer the capital city has apparently become.
How to cite pages in this special feature
Author name, 'Page title', Strandlines Maureen Duffy Special Feature, edited by Fran Allfrey and Katie Webb, November 2020 <URL>.
You will find the author name at the beginning and end of each text in this collection. For pieces without an author name, please cite Katie Webb.
We recommend using the Internet Archive Wayback Machine to generate a stable link for the page(s) you need https://archive.org/web/