Babylon: Beyond Borders
Bush Theatre, Shepherd's Bush, 2019
Header image: Detail showing Marduk (god), the most important god in ancient Babylon.  Babylon 2017, by Mouayad Sary.
by Titlail Negussie Mekuria.
I'm 43 years old and I live in London. I am a diaspora myself. I am originally from Ethiopia. I love dancing. I dance all the time.
***
Coffee ... It all started in Ethiopia. It originated from there.
It takes about  5 minutes to make coffee and enjoy it here but in Ethiopia it's a whole different story.
We light up the cole, we set the kit ... that takes 10 minutes.
We wash the coffee bins 5
We roast it 10
We manually grind it 7
Then we boil the coffee 15 minutes
All together it takes about 45 minutes before you can have a single sip of coffee.  You have to be very patient to drink coffee in Ethiopia but we love it.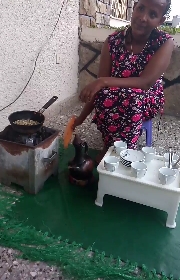 Traditional coffee ceremony in Ethiopia - raw coffee beans on the coffee roaster pan sitting on the charcoal container.
More on Duffy, London, Babylon