Stop 1: St Martin in the Fields
Latitude: 51.509254 | Longitude: -0.1261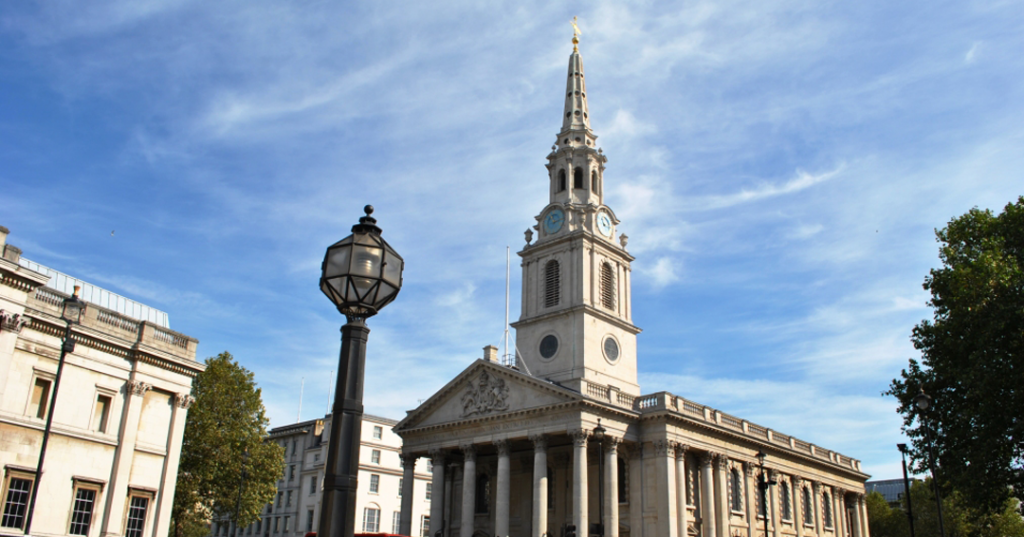 Long-term history and geology
Facing Trafalgar Square – overlooking one of the old Thames terraces on which the National Gallery now stands and which marked one of the former courses of the river that once flowed much further to the north – as far as St Albans – but which has slowly moved southwards as a result of the advancing ice sheets that covered much of England during the last ice age, about 13000 years ago.
Trafalgar Square was named in honour of the naval battle against the French which Admiral Nelson won in 1805 and which confirmed British naval supremacy during the long Napoleonic Wars with France (1795-1815). Nelson's column was erected in 1843, in memory of his naval victories, and the statue of Nelson himself faces southwest, towards his fleet at Portsmouth.
St Martin in the Fields
St Martin in the Fields has been a holy place for far longer than the church has existed.
An enormous Roman sarcophagus was discovered during excavations at St Martin-in-the-Fields in Trafalgar Square, revealing that Roman London extended well beyond previously known boundaries.
Weighing 1.5 tonnes and containing a human skeleton, the limestone coffin dated from the late 4th or 5th century. It was found a couple of kilometres from the site of the Roman town known as Londinium.
The buried man may have been a contemporary of the Church's patron saint, St Martin, a Roman soldier who converted to Christianity and died in AD397.
Other finds include a Roman tile kiln, dating from AD400-450, indicating that a significant Roman building existed near the site, and Anglo-Saxon burial remains from the beginning of the 7th century.
They reveal for the first time that the church of St Martin-in-the-Fields has been a sacred site for far longer than anyone realised.
The Church
A chapel has stood on site since 11th or early 12th century.
Church rebuilt 1722-24 by James Gibbs as part of the church rebuilding after the Great Fire of London in 1666.; had just finished building St Mary le Strand – one of the 50 new churches commissioned after the Great Fire.
Famous and infamous people buried here – including Nell Gwynne ( who appears later in the tour), Jack Sheppard ( famous highwayman) and William Hogarth ( d. 1762).
In 20th century under guidance of Revd Dick Sheppard it became important for care of homeless soldiers coming back from first world war– a function that the Connection continues to this day.
Today
Homeless people have taken refuge in the area around the Connection at St Martin's throughout the 20th and early 21st centuries. St Martin's, 'the church of the ever open door', gave shelter to First World War soldiers. In the 1990s, homeless residents slept under tables set out for St Martin's market. In this recording, Fernando tells of his experiences sleeping in the market, which has long since been removed.