Stop 4: The Adelphi Arches
Latitude: 51.509256 | Longitude: -0.123091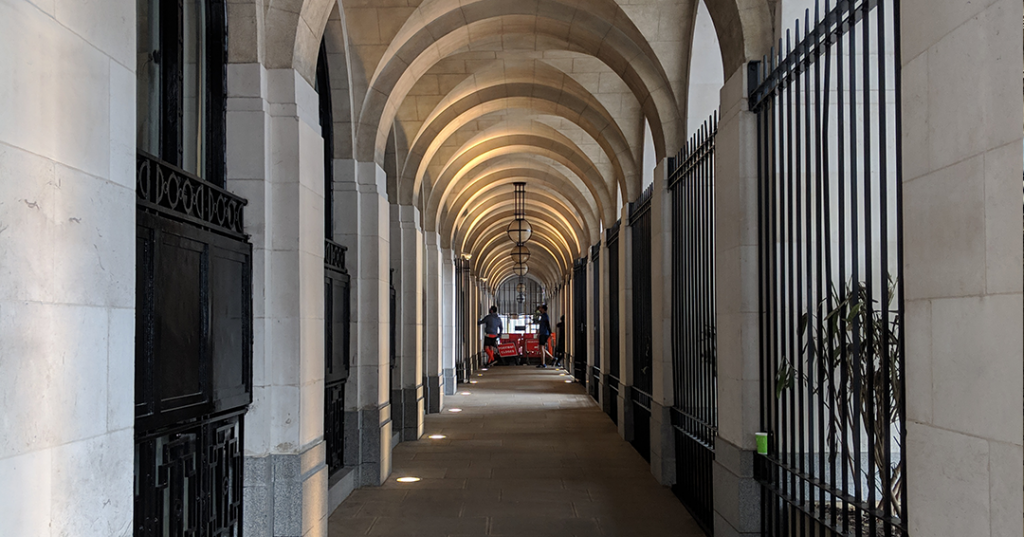 Adelphi — Greek for 'brothers' — was an ambitious scheme in the 1770s by 4 Scottish architects, the Adam brothers: Robert, James, John and William, to create a luxury riverside housing development of apartments built over huge brick arches and underground streets. The brothers' names are commemorated today in street names: John Adam Street, Lower Robert Street etc.
Vaults beneath the apartments were used to store goods by the quayside for transhipment to ships waiting on the Thames, and coal used to be unloaded and taken by horse and cart to the West End.
During the 19th century, vaults developed a reputation for being home to poor and homeless. Charles Dickens talks about the Adelphi in David Copperfield (1849-50).
Thomas Miller, in the Illustrated London News of 1850 talks about:
[The] thousands who pass along the Strand never dream of a shadowy region which lies between them and the river - the black-browed arches spanning right and left, before and behind, covering many a rood of ground on which the rain never beats nor the sunbeam sleeps, and at the entrance of which the wind only seems to howl and wine, as if afraid of venturing further into the darkness.
Most of the buildings have been demolished (some remain in Adam Street) to be replaced by a 1930s office block, but some underground vaults still exist. Lower Robert Street is all that remains open to the public.
Until recently, the arches under the Adelphi were home to many homeless people who lived there for many years. Although the arches are now locked up and the homeless can no longer sleep there, their presence is recorded by an inscription in the concrete roadway of Lowe Robert Street by "Stuart" who left his mark there in 1994.
Stuart talks about his experiences of coming to London, homelessness, and leaving his footprint in the concrete roadway of Lower Robert Street: