Stop 5: The lamp that never goes out
Posted in and tagged with 
Latitude: 51.5102350691 | Longitude: -0.1212255136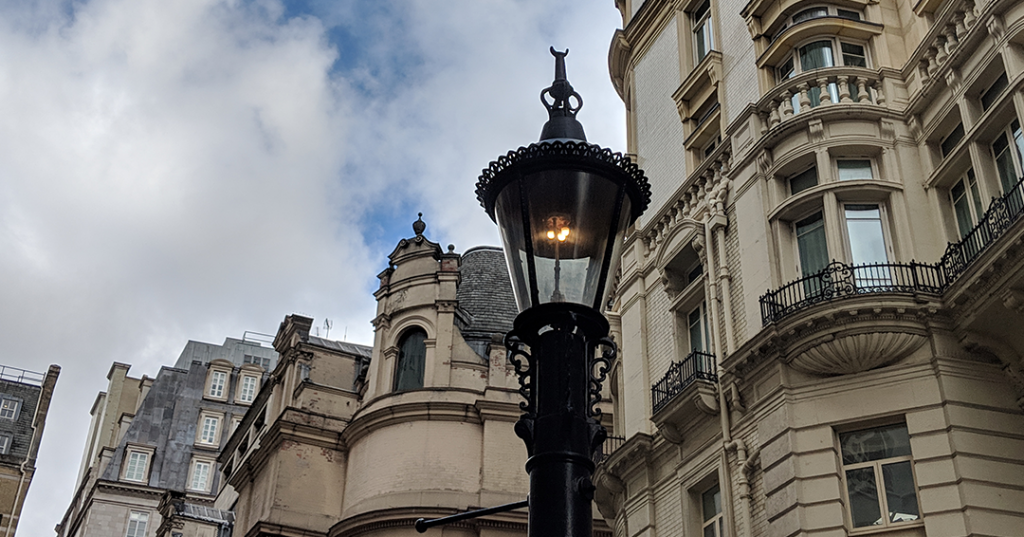 Carting Lane (AKA 'Farting Lane') leading to the Coal Hole pub reminds us of the commercial functions of the Adelphi as a quay and storage for goods, including coal. see Stop 4: The Adelphi Arches)
Another claim to fame is a gas light that never goes out – powered originally, according to legend, by sewer gas.
The lamp is a Webb Patent Sewer Gas Destructor Lamp and was invented in the 1890s by Joseph Webb as a way to draw off smells from underground sewers. A small dome collected the methane in the roof of the sewer, and the lamp was (and still is) left burning 24 hours a day. The lamp, nicknamed Iron Lilly, is the only one of its kind left in London (although it has been restored after being damaged by a reversing lorry in the 1970s)
Gas lights in London
Gas from burning coal was used from the late 18th century to power street lights, but the first street to be lit by gas in London was Pall Mall in 1807. Theatres were lit from around 1817 onwards.
The Gas Light and Coke Company, founded in 1812, was the largest to supply gas for street lighting. By 1819 it had laid 290 miles of pipes and supplied over 50,000 gas burners and lights. The Strand was one of the main streets lit by gas.