The future has come to the Strand, in the form of a beautiful machine – the Bloodhound. Currently filling the front window of Coutts Bank with its pointy-nosed enquiry into what sort of world might make use of it, this gleaming blur of potential encapsulates an ambition: to reach a speed of 1,000 mph and set a new World Land Speed record. The attempt will be made in South Africa in 2012; after that, the Northern Cape province is said to be interested in making the car a permanent attraction. Meanwhile we can gaze in wonder at this astonishing object. Objects are very fashionable in academic thinking at the moment – happily, as part of creative exchanges between scholars, curators and collectors.
The Bloodhound – named for a secret missile which one of the designers once worked on – is a magnificently designed object. Optimistically orange and dark blue, it is as sleek a streak of fast car as you might see in a comic. When I looked at it I saw hours, months, years of labour, care, technical effort. I also felt its freight of hope and dream. The Bloodhound takes 42 seconds to go from 0 to 1,000 mph. It's got a jet engine and a rocket and a handful of sponsors who want it to serve education, by promoting science, technology, engineering and maths. 1,000 mph is faster than the proverbial speeding bullet – precisely, faster than a bullet fired from a 0.357 Magnum. One of the questions people ask of the future is, will it be better? What can a supersonic car do for us? Futurism is philosophical and necessarily political. The Bloodhound is a case of entrepreneurship with sponsorship; it has a supporters club. I was reminded of an earlier moment of futurism in the form of balloons, invented by the Montgolfier brothers in 1783. Balloons arrived in Britain very quickly and some were exhibited in the Strand, at the Lyceum. (Others hung in the Pantheon in Oxford Street.) When balloons were first invented nobody quite knew if they would take off, or to where (I am writing a book about this!) but some of the same questions were in he air: will this work? Where will this technological adventure take us? Who puts up the money, and who gets the rewards? And what are the rewards? So petrolheads gazing at the Bloodhound as it regally watches the Strand have their ancestors in the airheads who in nearly the same spot two hundred and fifty years ago admired with wonder the new invention of the balloon. Plus ça change…?
More information on the car at http://www.bloodhoundssc.com/car.cfm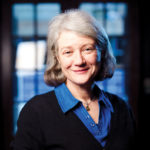 Clare is co-Director of the Centre for Life-Writing Research, and Professor of Eighteenth-century Literature & Culture in the English Department at King's College London.