Today I walked down the Strand with two things under my arm: a loaf of artisan bread, destined to accompany weekend soup, and Paul Virilio's book Lost Dimension. There was something pleasing in the conjunction: man does not live by bread alone; we need food for thought. The day holds significance for Strandlines because, after several plot twists, there is going to be fresh activity on the site. On a spring day of mild sunshine, with the magnolias perfectly lighting St Mary's porch, I was thinking about light – or rather, looking at light, because Virilio's book, which I had been reading by neon on the Tube, has much to say about how computer screens with their constant consistent glow create a placeless world of pure continuous present. He writes with poetic dismay about how this changes our conceptions of time and space, though as a philosopher of urban life he is also fascinated by digital developments. In the physical world of the street, with its big sturdy buildings and material history, it was hard to believe that a digital dystopia has taken over completely, though there were plenty of instances of digital light as people on the street consulted their phones and people in coffee shops looked at their laptops, in a gaze of intensity that used to be the prerogative of lovers. By daylight the Strand's neon signs for theatres and shops go quiet, like a secret;  it is also only in darkness that digital screens bestow that luminous glow that old masters should have painted, an illumination of faces from below that is ethereal  yet manufactured – technological bioluminescence.
Do you notice how light falls as you read this onscreen…? Virilio says the eternal present of computer screens replaces the rhythm of day and night. Perhaps it was the appearance of the sun at last after a long wet grey winter, perhaps it was the appearance of a neon sign advertising a new musical, Dirty Rotten Scoundrels, a title itself a musical phrase, but I felt as if the Strand was moving with the times in interesting ways.  How we become and act as digital subjects still in a physical world is a curious cultural process; we are pioneers of speeded-upness, and historical laggards in connectivity. It would be interesting to hear more on Strandlines about how you are a digital user on the street and, in the light of light-thinking, what illumination you may still seek in the natural world. Do you rejoice at the comings and goings of magnolia light?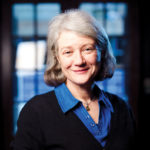 Clare is co-Director of the Centre for Life-Writing Research, and Professor of Eighteenth-century Literature & Culture in the English Department at King's College London.