King's College London Calendars go online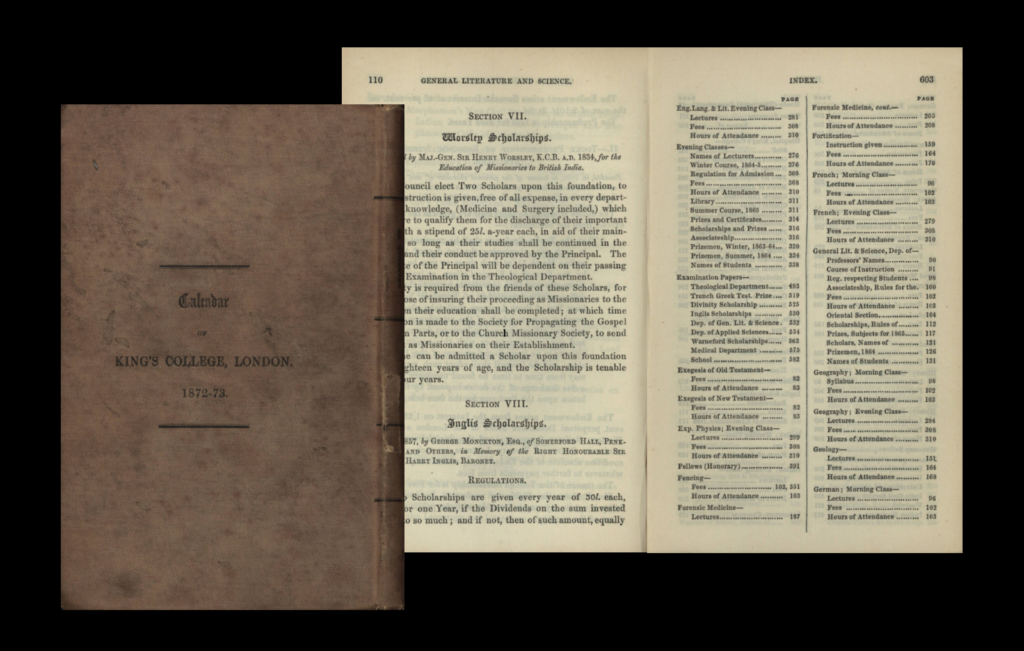 King's Archives have been digitising and publishing online King's College London Calendars, which describe life at the College from its opening in 1831. The calendars, which were published annually until 1985, contain a wealth of information on King's remarkable students and staff, listing names, academic courses, examination results and even student reading lists, prizes and exam question papers. The calendars record when famous men and women taught or studied at King's—physicists, writers, diplomats, theologians and many others – some of whom feature on the university's current Strand windows. They also describe the impact of major events on the Strand—such as the effects of wartime bombing.
The calendars are an invaluable resource for genealogists and scholars of education in the capital. Our archivists field hundreds of often very detailed enquiries every year from every corner of the globe, not least from family historians and experts conducting research on the subjects taught at King's in the past, including medicine, physics, art and literature, ground-breaking research conducted there and King's role in the Strand. The calendars are a vital source of information to answer these questions.
The digitised calendars will allow people to search and browse the calendars themselves from the comfort of their own homes for the first time—more will be loaded up this year, so please revisit soon!
Geoff Browell
Head of Archives, King's College London