The Strand is ready for Christmas
Posted in 2010-2019, 21st Century, Editorial blog posts and tagged with 2018, Aldywch, Big Issue, Christmas, Coutts Bank, Fortnum and Mason, India House, Jim Morrison, Savoy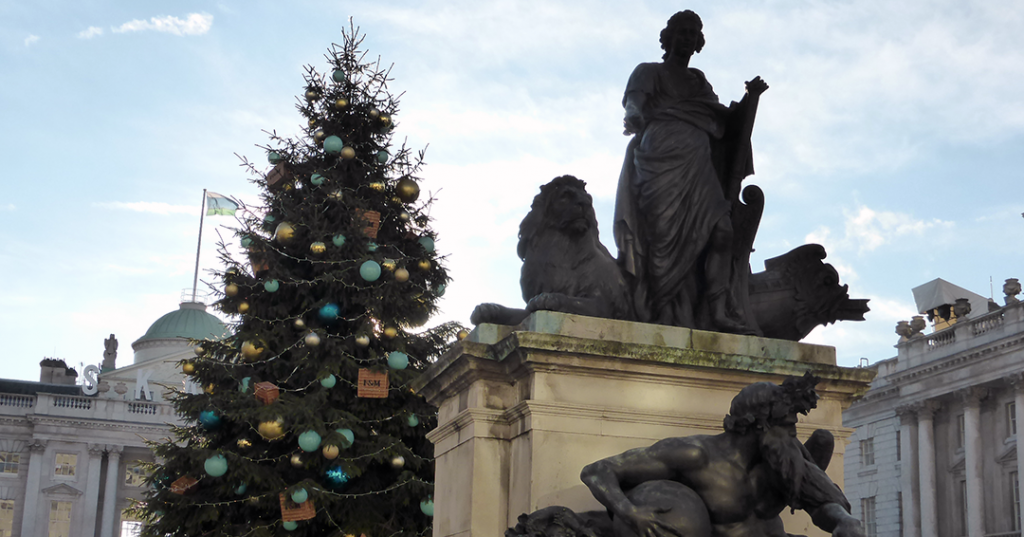 The Strand is ready for Christmas: thanks to the Northbank Association, strung with stars to brighten the cold skies. Looking along the street, however, is a less starry affair. A theme emerges, of the housed and the unhoused, picked up in the big window display of Coutts Bank, where paper houses press home the point of home. I counted fifteen homeless people on the street; one hopes The Connection's pop-up shop, backed by Coutts, will help with the provision of shelter.  Like London in general, the Strand is a tale of two tribes, the well-heeled and the impoverished. You can buy a scaled-down BMW for £99, or a copy of the Big Issue for £2.50. Such disparity prompts one to reflect on who and what Christmas is for…


It is though pleasant to see the Strand in its festive decorations: the Savoy cat has its red bow (sadly over plastic, not real box) and there are beautiful wreaths, trees, evergreen arrangements along many of the shop fronts. In Somerset House courtyard the annual tree is dressed in Fortnum and Mason colours; its seasonal outpost – with a pretty gingerbread house among its offerings – transforms East Wing arches into beautiful decorations. The ice is polished in between skating sessions, and bright sun bestows more glitter and sparkle.
In Montreal Place, the Aldywch cut by India House,  there was a gathering of ageing but trim policemen to pay respect to Detective Constable Jim Morrison on the anniversary of his death. In 1991 he was off duty, but chased a handbag thief who stabbed him. His murder has not been solved; the Metropolitan Police would still welcome information.
In these cold days under a waxing moon, it is good to remember those in need on the Strand, and those who have helped make it what it is.
The Strandlines team wishes everyone a happy and safe festive period, and joy to  all on the Strand.