"In the Bush… in the Strand"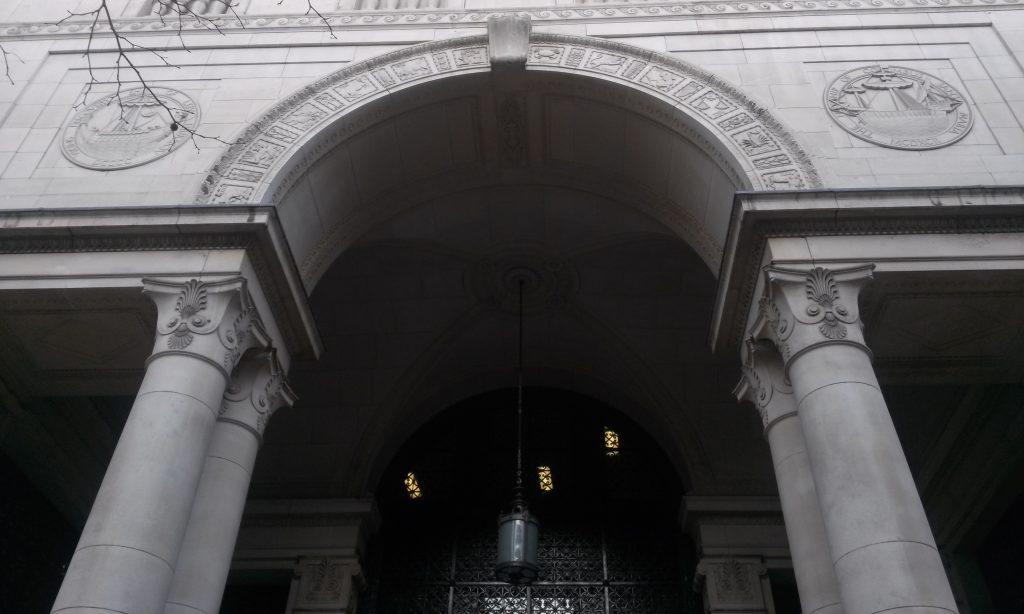 Isn't it suggestive? Just the very name makes one wish to know more. Why was a house named like that in central London, in the midst of the Strand? Perhaps a Mr. Bush ordered it built? Perhaps, mysteriously, there is a link to the nearby Australia House… That would be fascinating! When I was studying literature as an undergraduate I remember the symbolism of "the bush" in Australian narratives. I need to know. A simple Google search might tell you, but I'd rather unravel the mystery on my own. Thus, as a literary detective in the Strand, I undertake the enterprise of finding out the origin of Bush House, its history, and any other surprise than occurs along the way.
My journey will take me inside the building, exploring its innards, its statues, its labyrinthine wings, and on to some of the best views in London which a little bird told me about. I gather all my strength because I'll need it. At -1°C today is one of the coldest days since I arrived in London last 3 January. Wrapped in snow boots, coat, gloves and scarf, I have to believe I'm ready. Am I? I have to admit I'm not that fond of the cold. It must be the Spanish vein in me. I come from a region where it's usually rainy, so I should be used to this gloomy atmosphere.
However, as years go by, I realize I yearn for the sun and its absence is sorely felt. It may be a good idea to come back on a sunny day, and check whether my impressions remain the same. That would be a literary emotional experiment worth proving! Last semester I was teaching Gothic and Romantic literature and this issue came up: does weather and scenery affect what and how you write? Surely it does, I believe. But I saw skeptical students' faces. We tried the experiment on campus, and it worked – for some (if you are reading this, you know who you are). I guess it is a very personal experience with no expected outcome. On I go! If need be, I will make the journey twice for the sake of literature.
On the outside, the impressive marble stands before you. Right before I enter the North Wing, I stand in awe of the intricate artwork laid before my eyes. The sculptures seem to come alive and speak of times long gone, a glorious past where the owners of the house claimed ties to heroic Ancient Greece and Rome, to classical myths charged of political power by the look of it. The ceiling glares down at the passerby, as if joining the statues in ominous warning: "Abandon all hope, all ye who enter here"… Does it resemble lacework, an interweaving, interlocking pattern, metaphor of the history of the Strand? What was in the artists' minds? Let us detain ourselves by the archway entrance and ask at the door.
The guards could hold the key to unlocking part of this arcane mystery. Unfortunately, none of them know much more than what you may read online or on the walls. They suggest I do my research that way, that I might find both the story of the Bush family who commissioned the building as well as the fact that it used to house the BBC headquarters. But wouldn't it lose all its appeal then? I refuse to quit so easily. I get out of the building and, again, try to get my bearings. Surrounded by names such as Melbourne Place and Melbourne House, it is easy to understand why I insist on this odd connection. I now head towards the South Wing. Passageways and corridors on all sides, it is easy to get lost. If in doubt, I'll ask for the way, do not fret. I just need to find the right wing (was it East or West?), the 8th floor, and I will see for myself. The long-awaited views. They told me it was amazing. I'm sure it'll be worth my day. Found it! So glad I made it. An overwhelming emotion I cannot describe. I am finally where I dreamt of being. This is the spot. And yet… They've closed the terrace for the winter months, so, sadly, I'll have to come back in spring. No such luck as seeing it now. I get out again. Now it has stopped freezing, perhaps it's worth seeing the house from the Strand. The building does not appear quite as grand as it does when viewed from Kingsway, but that is the typical picture everybody associates with Bush House, so I decided to skip it here. Feel free to look it up.
A word on the medallions found on the South Wing main entrance. One depicts a Viking ship, the other a Spanish ship. I find it amazingly detailed, and very much revolving around the idea of America. Of course, by now I know Bush House was commissioned to be a trade hub between America and Britain and its motto was to show the friendship between the two nations, thus the sculptures at the North Wing entrance. Yet, me being from Spain, I can't help but smile on seeing Columbus's ship. All in all, what I've enjoyed the most out of this adventure is meeting Betty, one of the contractors working security at the South West wing. We met on one of my ins and outs and, smiling a broad smile, she wished me a hearty "Good morning!" that was music to my ears. I told her about what I had intended this to be and how unlucky I had been. She smiled a bit more. She did not know either what Bush House had been before a BBC place, but recollected listening to the BBC World radio broadcast service years ago – not that long ago, though (she laughed) – from home. Where is "home"? Uganda. She asks about mine: Spain. You must be cold here! – she adds. Actually, it's my turn to laugh, it's much worse there, you know. Snow, floods… casualties even. She looks disconcerted and I can't blame her. I'm getting used to the look whenever I have to explain I come from the North coast of Spain, which is not what anybody expects. And it must be climate change, I add, because I spent a snow-free childhood and now that's not normal any more. As if thinking out loud, she says: "The weather is like people here in England – very changeable!" Really? I grin. "Yes, my husband is English, so I should know." We both start laughing and I tell her that it's not just here, but everywhere. We talk for a while and then I realize I must get going and have to say my goodbyes. We hug and she tells me I should come back some time. Of course I will! Remember I have to see the views. This is a tribute to all the nice people in the Strand. There are many, hidden amongst the "bushes" of urban life, of that I'm sure. Bye for now, and see you soon!