Fruity Wordplay and Weird Forests: Now Play This 2019
Posted in 2010-2019, 21st Century, contemporary, Editorial blog posts, entertainment, galleries, Stories and tagged with digital life writing, exhibitions, Now Play This, play, Somerset House, videogames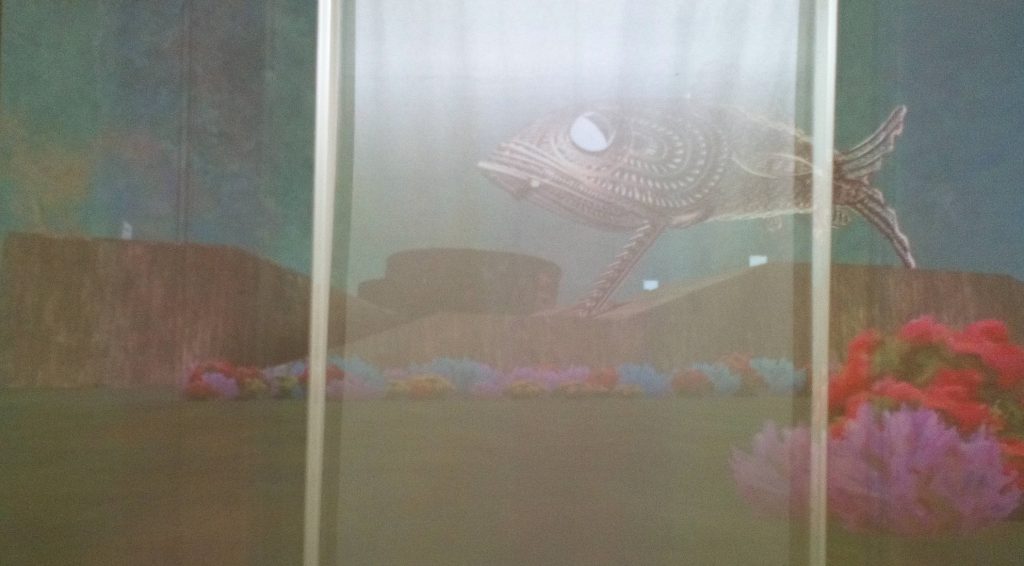 The Now Play This festival of experimental game design returned to Somerset House this weekend, bringing another smorgasbord of games and playful artworks, digital and otherwise, to the Strand.
This year the theme is community. In many cases, this means works designed to spur competition and collaboration – works like Patrick LeMieux's Octopad, in which the duties usually assigned to a single player's thumbs are distributed across an octet of modified 1980s Nintendo controllers, requiring groups of players to coordinate their inputs and rendering familiar retro favourites new and strange. It's great, chaotic fun.
There are also more meditative experiences on offer however: Michael Berto's Zium Garden is a virtual exhibition-within-an-exhibition, populated with works by 50 digital artists, while Worm Club's Frog Detective 2 has players quizzing kooky woodland creatures to unravel a mystery.
Many of the designers here approach the topic of community through the lens of communication, engaging in forms of wordplay that hark back to Oulipo, the surrealists or Gertrude Stein. In Common Works' algorithmically-enhanced Malapropic Karaoke booth you never sing the same song twice, thanks to software that replaces the actual lyrics with wrong-footing soundalikes; Abi Palmer's Crip Casino sees fruit machines being retooled to generate elliptical poems about disability (I got 'fluctuating | psychosomatic | melodrama | despite | elbows' and 'oh hell it looks like | relentless | wisdom | and | darkness'). Katie Wickens' MythMash, meanwhile, is a card game designed to help players generate their own myths, like a cross between solitaire and Vladimir Propp's Morphology of the Folktale.
 Other works – like Belgian studio Tale of Tales' Endless Forest – are pointedly wordless. First released in 2006, at a time when World of Warcraft was in its ascendancy, it offers a very different take on online gaming. Where WoW made players 'grind' through hordes of monstrous enemies to optimise the stats of their Tolkeinesque warriors, here we control a stag with a human face wandering ethereal woodlands with no obvious goal; and where the ability to chat with fellow players was crucial for coordinating WoW raiding parties (and was also, as feminist videogame historians have shown, abused to harass and pester female players), Endless Forest favours non-verbal communication, furnishing our creaturely avatar with a repertoire of sounds and gestures that it leaves up to players to interpret.
An outlier at the time, Endless Forest now reads as a forerunner of wacky experiments like Keita Takahashi's Noby Noby Boy (2009) and abstract 'relax 'em ups' like David O'Reilly's Mountain (2014), and would go on to inspire the BAFTA-winning Journey (thatgamecompany, 2012), which limits player communication to melodious pipings and chimes, maintaining the dreamy mood while precluding toxicity and trashtalk. It's nice to see it installed in a bosky, beanbag-insulated glade here.
Another cute curatorial touch is the juxtaposition of Milton Bradley's 1992 board game Electronic Dream Phone – which came with its own pink plastic telephone for fielding calls from characters like dreamy gym bunny Matt and adorkable cinephile Gary – with Molly Soda and Aquma's Wrong Box, a psychedelic paean to 'what it felt like to surf the web as a teenager', presented here on a desktop PC surrounded by heavily pixelated posters of nineties and noughties pop icons.
The same room plays host to Zoyander Street's Interactive Portraits, a set of interviews with Japanese trans activists and artists presented on portable consoles that abstract Street's interviewees into kawaii constellations of coloured blobs. Between them these works highlight the crucial role of communications technologies in determining how we forge identities, formulate desires and share life stories.
That whistle-stop tour barely scratches the surface of what's on offer here (seriously, look at that programme), but hopefully it will spur some of you to pay a visit before the festival closes on Sunday.
As avid Strandlines readers will know, the Strand has a long history of playing host to playful entertainments and illusionistic spaces – from immersive Georgian panoramas to spectacular nineteenth century musical comedies and indoor exhibitions of hot air balloons – and has even featured in the odd videogame. Now Play This continues this illustrious tradition. Here's looking forward to next year's edition…