Notes on the Kingsway Tunnel
Posted in 1950-1959, 20th Century, 21st Century, Places, Strandlines, Transport, underground and tagged with Aldwych, Cartography, Kingsway, LCC Trams, London, map, strand, Tram, transport, travel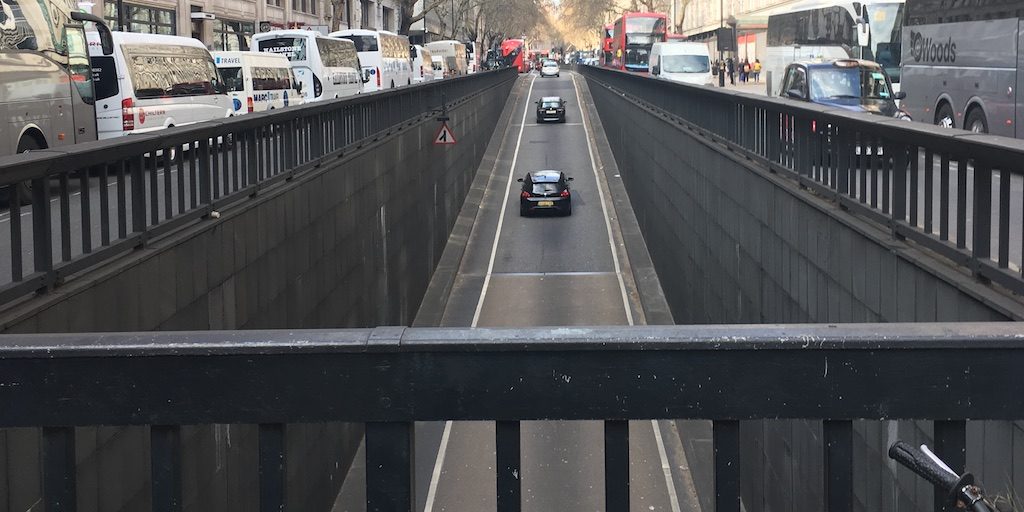 Editors' note: The Strandlines editors are always scouring for news and research about the Strand area. Below we're delighted to be sharing an extract from '

Here's everything we learned from this map of London's defunct tram network'

, by Jonn Elledge. You can read the entire article on

CityMetric

.
Anyone who has worked, studied around, or visited the Strand has probably noticed the tunnel that runs from Lancaster Gate (where Waterloo Bridge joins the Strand) to the southern foot of Kingsway. What you may not know is that this tunnel used to be a tram route.
In his article Jonn Elledge explores a few of London's old tram routes, and explains why they've been almost forgotten. Below is an extract on the Kingsway tram.

* * * * *
"The last routes of the original tram network closed in 1952. Since then they've been erased so completely from our mental image of London that more than one person has acted surprised when I told them there were trams on the streets of south London today.
Part of the problem is that there was never a tram equivalent of the tube map, to lock them into the city's cultural memory.
On scattered corners of the internet you can find photographs of old maps, but they're generally so tiny it's all but impossible to see where the trams actually went.
Luckily then, that somebody's done it properly: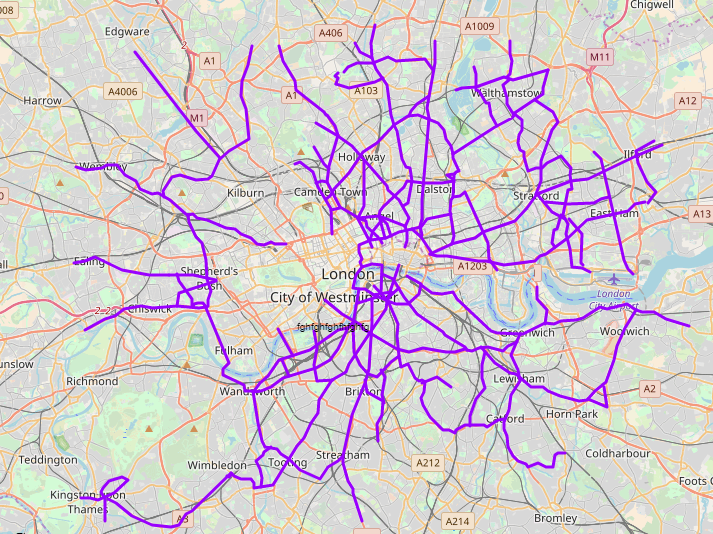 You can zoom into this map on ShareMap.org, to check exactly which roads the trams served (though sadly, not which trams served which routes).
The Kingsway Tunnel was the Crossrail of its day
Okay not really, but it felt like a good tagline.
Very few trams penetrated into either the City of Westminster. That meant that, just like their bigger, heavier train counterparts, very few trams could cross central London.
There was, however, a single line which ran from one side of London to the other, using which trams could travel from north London to south. At Southampton Row, just north of Holborn, trams would drop into a tunnel under Kingsway, serving two underground stops at Holborn and Aldwych, before emerging on the Embankment under Waterloo Bridge. From there, they would use Westminster or Blackfriars Bridges to continue their journey south. (I'd always assumed they'd cross the bridge, but turns out I assumed wrong).
The southern part of the tunnel is still in use, as the Strand Underpass – but now it is used entirely by cars. Which feels horribly fitting, somehow."
Jonn Elledge is the editor of CityMetric. He is on Twitter as @jonnelledge and also has a Facebook page now for some reason. 
* * * * *
Do you have photographs or old family stories about the Kingsway tram? Or perhaps you've taken part in – or sent a letter of protest against – the infamous Tunnel Run that has been known to use the echoing underpass to amplify the rev of engines? Share your story on our 'contribute' page, or get in touch via Facebook, Twitter, or Instagram.