The Eleanor (Charing) Cross
Posted in 1800-1899, 19th Century, Architecture, Editorial blog posts, Medieval, Places, public squares, Strandlines and tagged with Charing Cross, design, eleanor cross, Layers of London, medieval, medievalism, monument, neo gothic, neo-medieval, public art, statue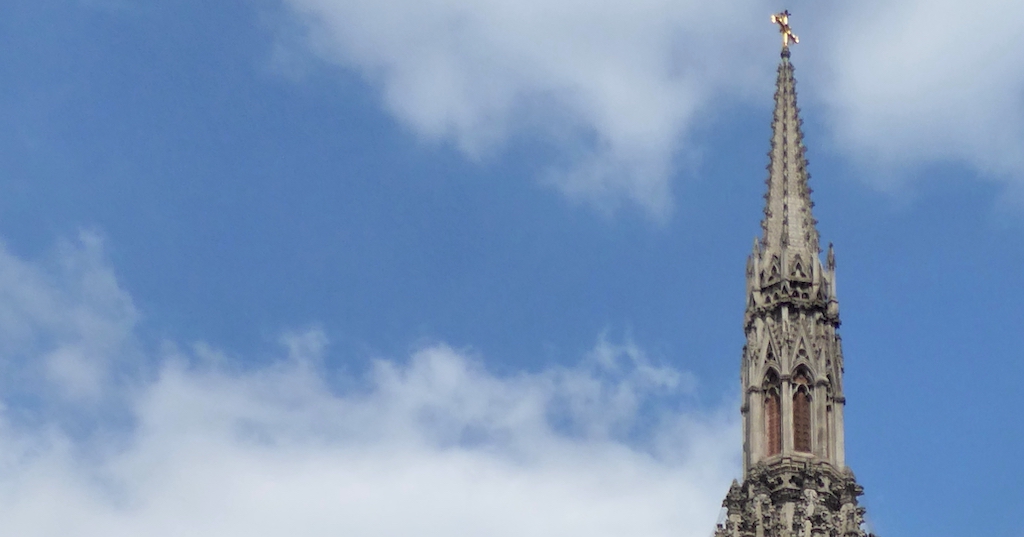 The story of the Eleanor Cross begins with the death of Eleanor of Castile, wife of Edward I, on 28th of November 1290. A series of twelve crosses marked the resting places of the funerary cortège which began in Nottingham, where Eleanor died, and made stops at towns between Lincoln and Westminster Abbey. Charing Cross was the last step.
Based on the French montjoies (monuments built after the death of Louis IX in 1271), the Eleanor crosses encouraged prayers for her soul (Orate pro anima). Only three of the medieval crosses remain.
The so-called 'Charring cross' (from the Old English word 'cirran' meaning to turn aside, or bend, which describes the Thames' path at this point of the river) was the grandest of all twelve [1]. It was demolished in 1647 following an act of Parliament, who deemed it a "godless image", before it was replaced in 1675 by the still-standing equestrian statue of Charles I. [2]
In the Victorian wave of enthusiasm for the Middle-Ages, a new cross was ordered by the Charing Cross Hotel Company and built in 1865. Designed by Edward M. Barry (son of Charles Barry, architect of the Parliament building; and himself an architect of the Charing Cross Hotel), the statue is to be seen as a nineteenth-century educated reinterpretation of the medieval monument.
Barry's cross shares its form with George Gilbert Scott's Oxford Martyrs' Memorial, which was itself already loosely inspired by the medieval Eleanor crosses. The style of the Charing cross is more fourteenth-century, more ornate, than the original which dated to c.1293: with its abundant niches, crockets, foliate capitals, and unmistakably Victorian red Mansfield stone. [3]
*
Sources
[1] Nikolaus Pevsner, London I: The Cities of London and Westminster (1962), p. 318.
[2] Ann Saunders, The Art and Architecture of London: An Illustrated Guide, Phaidon, 1984 (pp. 11-22)
[3] Historic England, Listed Buildings Database: Entry 1236708, Last update 05 Feb 1970 (accessible here: https://historicengland.org.uk/listing/the-list/list-entry/1236708)
---
Paul is a volunteer for the Strandlines and Layers of London collaboration. Explore all of the Strandlines and Layers of London collaborative posts, which bring together over 500 years of maps and images, on the Layers of London site.