Lost buildings of the Strand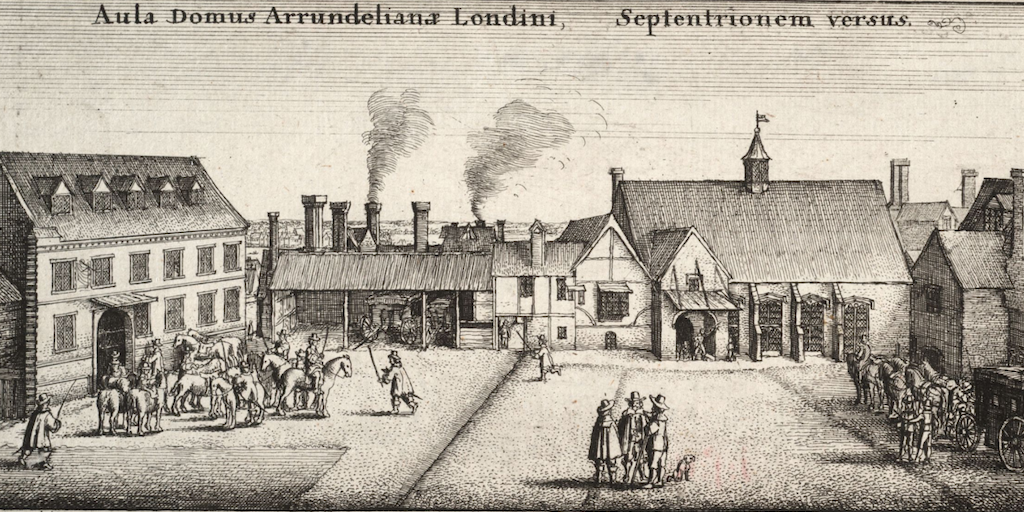 Editor's note: below you can find teasers of Aisha Brady's research for her Layers of London collection 'Lost Buildings of the Strand'. Aisha researched this collection (and many more!) as a Layers of London and Strandlines collaborative volunteer. We are currently recruiting for more volunteers, apply by 7 February 2019! Find out more here.
Lost buildings of the Strand
Histories of a selection of buildings which formerly stood along the Strand, which have since been partially or fully demolished.
Arundel House,
1221

to

1682

Known in the medieval period as Bath House, the property was first granted to Eustace de Fauconberg upon his appointment as the Bishop of London in 1221. Arundel House was demolished between 1680 and 1682, but it lends its name to Arundel Street, a road which now runs directly through where the house once stood.

In 1539 Bath House was given by the Crown to William FitzWilliam, Earl of Southampton, who renamed it Hampton Palace. It was then inherited by Thomas Seymour in 1545, who made significant alternations to the house – which he called Seymour Place – before he was executed for treason on 20th March 1549.

It was purchased by Henry FitzAlan, 19th Earl of Arundel, who gave it its final name of Arundel House. His daughter Mary FitzAlan became the heir to her father's estate after the death of her brother Henry in 1556. The previous year she had married Thomas Howard, 4th Duke of Norfolk, and in 1557 their son Philip was born at Arundel House. Mary died just eight weeks after his birth, on 28th June 1557.

Thomas Howard then became part of a plot to overthrow Queen Elizabeth and replace her with the then-imprisoned Mary, Queen of Scots. Howard was the wealthiest landowner in the country at this time, and a marriage between himself and Mary would greatly aid her in her quest for the throne, and catapult Thomas into a position of immense power. The plot was discovered, however, and he was imprisoned by Queen Elizabeth in January 1572 and found unanimously guilty at trial. He was executed by beheading at Tower Hill in June of the same year. Read more on Layers of London…
Essex House,
1575 to 1670s
Occupying land previously belonging to the Knights Templar, Essex House was built c.1575 for Robert Dudley, 1st Earl of Leicester, and was originally known as Leicester House. Essex House was demolished in the mid-to-late 1670s, although the name remains in Essex Street, which occupies some of the house's former site.
After Robert Dudley's death in 1588 the house was inherited by his stepson, Robert Devereux, 2nd Earl of Essex. Robert joined the court of Elizabeth I in 1584, and soon became one of the Queen's favourites. However, his disastrous campaign in Ireland during his time as Lord Lieutenant of the island caused him to fall dramatically out of favour.
Devereux had repeatedly defied orders – most egregiously in withdrawing and returning to England with his troops without authorisation – and his increasingly presumptuous and erratic behaviour led to him being taken into custody in October 1599 at York House. His return from Ireland was deemed as treason, and a special inquiry on 5th June 1600 stripped him of all royal appointments, permanently banished him from court, and sentenced him to remain as the Queen's prisoner.
he custodial sentence was soon relaxed, but the banishment was not, and in October 1600 Elizabeth declined to renew his lucrative government-granted monopoly on sweet wine. This decision infuriated Devereux, as the loss of the large income the monopoly provided would plunge him into dire financial straits, at a time when he was already contending with mounting debts. He was deeply aggrieved and became determined to make a bid for power, believing Elizabeth to be surrounded by corrupt and inept advisors who were collaborating with the Spanish enemy.
Essex House quickly became the epicentre for those displeased by the decisions of Elizabeth and her government, and Devereux invested his dwindling funds into fortifying his Strand stronghold. On 7th February 1601 he sponsored a performance of Richard II (Shakespeare's tragic play about a monarch who loses his throne due to the wicked scheming of his advisors) at the Globe Theatre, and began to amass a crowd of rebels at Essex House.
Elizabeth's council became aware of his activities, and called his bluff by summoning him to appear before them, and the following morning Elizabeth sent four messengers to urge him to meet with her. Devereux, despite having lost the element of surprise, decided to proceed with his hastily-made plans regardless, and imprisoned the messengers in his library before leading his approximately 200 supporters on a march into London. Read more, and find more images, on Layers of London…
Hotel Cecil,
1896

to

1930

Built between 1890-96, the Hotel Cecil was a grand and imposing brick and stone building which occupied the site of what is now Shell Mex House. Its name was taken from the grand Salisbury House which once stood on the land beneath, built by Robert Cecil, 1st Earl of Salisbury, and was demolished between 1678 and 1695.

The project began life with Jabez Balfour, a politician and businessman, who intended to build a combined block of chambers and flats overlooking the nearby Embankment Gardens. However, in 1892 Balfour was arrested and imprisoned for embezzlement after the failure of his Liberator Building Society, which was funding construction.

A new company was formed in order to purchase the building, and this group determined instead to create an opulent hotel. Read more, and see more images, on Layers of London…
The Rimmel perfumery, Beaufort Buildings
Born in France in 1820, Eugène Rimmel was the son of a scent manufacturer, from whom he'd learned his trade during his time as an apprentice.
The father and son pair established a shop and laboratory in London around 1834, and in 1857 they moved to premises in Beaufort Buildings, Strand, where they continued to manufacture toiletries and cosmetics to great success. Read more and fine more images on Layers of London…
---
Explore all of the Strandlines and Layers of London collaborative posts, by Aisha and other contributors, which bring together over 500 years of maps and images, on the Layers of London site.