Posted in 1700-1799, 1800-1899, 2010-2019, Editorial blog posts, Education, Events, gardens, Green, parks, Places, public squares, Stories, Strandlines, streets and roads and tagged with Aldwych, climate, environment, gardens, green, London, park city, pollution, trees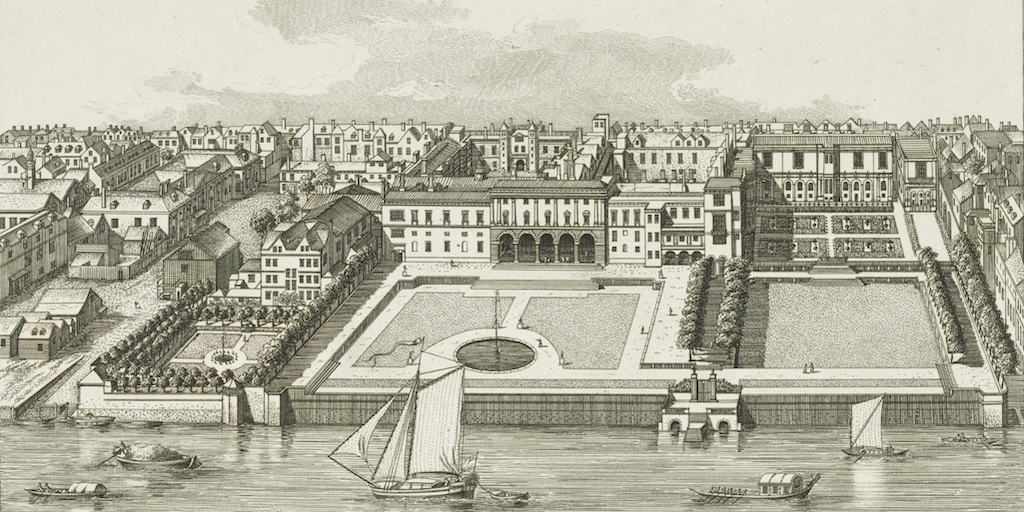 Greening Aldwych: A walking tour of lost and future green spaces of Aldwych
 31 May 2019
12:30pm – 2:00pm
Free! Booking required (link opens Eventbrite booking page).

Join the Strandlines editorial team, researchers and archivists at King's College London, on a tour of past, present, and future green space around Aldwych. We are marking London History Day with our minds on the environment in this busy part of the city.
The 40-minute walking tour (12:30-1:10) will explore locations around Aldwych that have moved through different shades of green over the last three hundred years. We'll explore a miscellany of stories about the lost gardens of Somerset House, the secret life of Aldwych bees, why Aldwych looks like Paris, and what the future holds for this congested part of London.
Participants will then have 45 minutes to explore the past, present, and future of Aldwych in the King's Archives. We'll invite participants to imagine – in words or pictures – what the future pedestrianised Aldwych might look like, in 5 years, or 100 years!
Book via our Eventbrite listing.
Accessibility: the walking tour will last 40 minutes. Bathrooms will be available before and during the 'archive' session. All areas visited are accessible to wheelchair users. Please be in touch if you have any queries at all by emailing [email protected] or via Twitter @Strandlines.
Featured image: Somerset House as it appeared c.1720 by Leonard Knyff. Etching illustration from 'The Antiquities of Westminster', 1808. Creative Commons via National Galleries Scotland.