Why visit the Strand (according to reviews)
Posted in 2010-2019, 2020-2029, 21st Century, Architecture, contemporary, Editorial blog posts, Places, Stories, Strandlines, streets and roads and tagged with central London, Experience, MyStrand, Opinion, Reviews, tourism, Trip Advisor, TripAdvisor, Visit London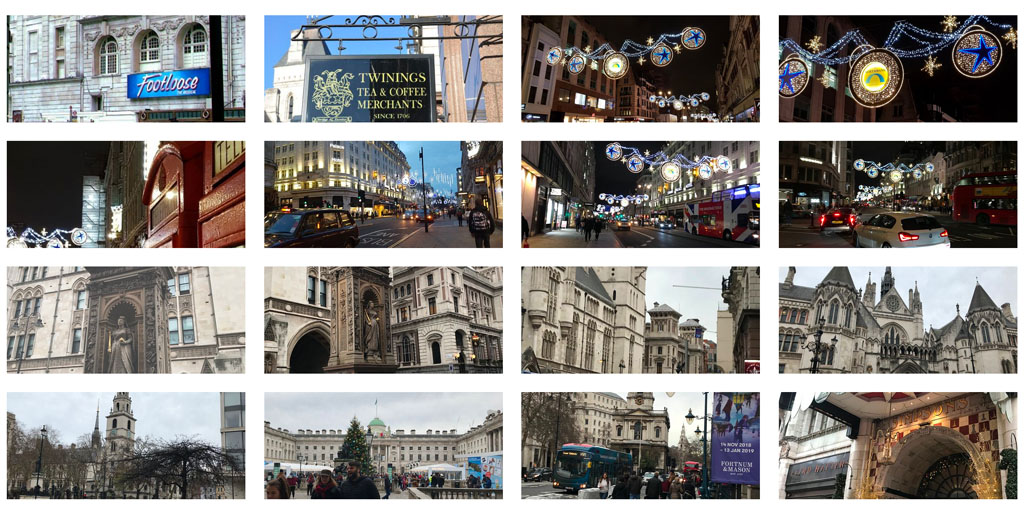 With lockdown one easing, Londoners and tourists are beginning to explore the city or return to their places of work. Of course, for some essential workers, the Strand has continued to be a part of daily life.
As for me, I'm lucky that my job can be done from home, and I am nervous about venturing into central London even in my time off. (I realise this is a privilege that some don't have).
Being away from the Strand has got me reflecting on what I miss about it. Mostly I miss the frivilous day to day rituals of deciding between several Prets or the independent cafe just off Waterloo Bridge at lunchtime, or meeting a friend for a drink, perhaps at the Lyceum Tavern or Gordon's. With my Strandlines assistant editor hat on pre-lockdown, I'd often wander with camera and dictaphone in hand, on the lookout for architectural details or people to chat to.
But the Strand isn't the same place for everyone. Late one evening last week, after a long day of working from home, I found myself following a digital walk down the Google Streetview version of the Strand. (Lockdown affects us all in different ways!). I began noticing the reviews left on pubs, hairdressers, and restaurants, and before I knew it I found myself on Trip Advisor. A few clicks later, I discovered that you can leave a review for the Strand. Not any one pinpointed location, but the Strand itself, as a street. It's categorised as one of London's 'Historic Sites', 'Points of Interest & Landmarks', and 'Historic Walking Areas'.
As of August 2020, the Strand averages a four-star rating with 98 reviews, making it "#579 of 2,331 things to do in London". Below are excerpts of the reviews that made me laugh or pause.
For readers familiar with the Strand: do any of these reviews chime with your experience? How would you recommend the Strand to a visitor (if at all!)?
One Star ⭐
The solitary one-star review comes from a rather disgruntled traveller whose review seems rather to be directed at a hotel rather than the Strand as a street. Poor Strand, having its rating so wrongly affected!
Two Stars  ⭐⭐
There are only two two-star reviews. One visitor is straightforward about what they don't enjoy about the Strand: "Not a very exciting part of town – no charisma rather dirty."
The other reviewer doesn't seem to have precise complaints but expresses a more deep seated distate: "For some reason I have never liked the Strand. It starts off well at Trafalgar Square but then the shops are disappointing and it all gets more tatty – I suppose it's the contrast to Whitehall." The contrast between Whitehall and Strand hardly seems fair. To me, the Strand full to bursting with shops and workers, and Whitehall is clinical, with no shopfronts to speak of. Which street, I'd ask this reviewer, is more representative of London life?
Three Stars ⭐⭐⭐
This three-star review struck with prose reminiscent of a whimsical and meticulous nineteenth-century travel guide writer:
"The Strand is a delightful street, busy with pedestrian and vehicular traffic. It is lined with elegant old buildings with shops, restaurants and pubs at street level. The stately Savoy Hotel is located here. Running between Trafalgar Square to Fleet St, it provides easy access to Covent Garden, the Courtauld Gallery, the Thames and West End theatres. Not a destination in and of itself, but a very pleasant stroll as you walk between the many notable sites in the area."
The title of another review tickled me with its deadpan specificity: "Una via lunghissima", that is, "A very long street". A perfect title for a middle-of-the-road three-star review, which doesn't really give much away about the writer's opinion.
It seems the three-star review can cover a range of more or less emotional responses. This next example is much more negative in its ambivalence: "Nothing special really about this road. Its like many other roads in London. Full of shops, restaurants, and hotels for you. The Strand does lead you to Trafalgar Square though." The only good thing about the Strand in this case? Where it goes!
As another three-star writer put it, "the Strand is an extremely busy thoroughfare, were you walk mostly to go somewhere else."
Four Stars ⭐⭐⭐⭐
Many of the four-star reviews also comment on the Strand as a place to walk through, but it seems that this is seen as much more of a positive for these flaneurs. Four-star reviewers insist that "The ambience in the run up to Christmas was almost magical", and even outside of the festive period, it is "lovely for a stroll".
People who leave four-star reviews are people who appreciate people watching. The many hotels, the theatres, The Courtauld Gallery, Savoy, Saint Mary-Le-Strand, and the Royal Courts of Justice get some shout outs. "Lots to do!" is the simple title of one review.
People who leave four-star reviews don't mind wandering and exploring, with nothing in particular to see. They are city lovers, those who want to tick off a box "from Monopoly (the real Monopoly, not the American version"), and take photographs of the grand theatres and hotels. Many reviewers commend the Strand for what is above street level: they urge us to look up, above the shop signs, and admire the architecture.
"It is a good pot pourri of London's personality," summarises one reviewer.
For other four-star reviews, I wonder what made the writer leave off the last star. For instance, there seems only admiration in this four-star comment:
"I always call Strand "The Strand" & I feel that it being such a magnificent street that adding "The" to it is perfectly fitting".
I can only agree!
Five Stars ⭐⭐⭐⭐⭐
People who leave five-star reviews enjoy exactly the hustle and bustle of the thoroughfare that seems to put off the one- and two-star commentators. The Strand is called "Buzzing", and reviewers say they feel themselves "Walking into history". One writer even saw the heavy traffic as a benefit: they took a bus ride from Trafalgar Square toward Fleet Street and enjoyed being able to watch out of the window at a slower pace!
The Strand, according to these reviews, rewards the curious. There are recommendations for the jewel-like Twinings store: a small shopfront that hides a whole world of tea. Writers tell visitors to not be afraid to dive down the many alley-ways, and explore the gardens behind the hotels.
One particularly exhuberant reviewer insists that the Strand is the "second best street to Broadway New York". While others romaniticise the area even beyond my own recognition, calling it "picturesque". I suppose some of the architectural details are lovely, and the Dickensian side-streets do have an allure, but as a whole, I do see the Strand as a whole as more rough-and-ready rather than picturesque (and that is a complement!).
Picturing the Strand
Throughout this blog post, I've included screenshots of some of the 94 photographs uploaded with the Strand Trip Advisor reviews. Taken as a whole, the dominant colour of Strand photographs is grey: the stately white-grey of the Royal Courts of Justice, Somerset House, and the hotels along the street.
A couple of theatre signs make an appearance, but perhaps not as many as the 'Theatreland' West End promotional board would like.
The pointed spires of St Mary-le-Strand and St Clement Danes also pop up more in the pictures than the written reviews. Perhaps they namelessly provide the picturesque moments mentioned in some of the more favourable comments.
What is your verdict?
So, one star, three, or five? How would you rate the Strand? If you could upload only one photograph to represent the Strand, what would it show?