Catch up with Maureen Duffy and Liz Mathews in conversation
Posted in 2020-2029, 21st Century, contemporary, Editorial blog posts, entertainment, Events, Literature, Maureen Duffy and tagged with Artist books, Author, Calligraphy, Centre for Life-Writing Research, CLRW, Discussion, KCL, King's College London, Lettering, Liz Mathews, London, Maureen Duffy, Pandemic event, poetry, poetry reading, Q & A, zoom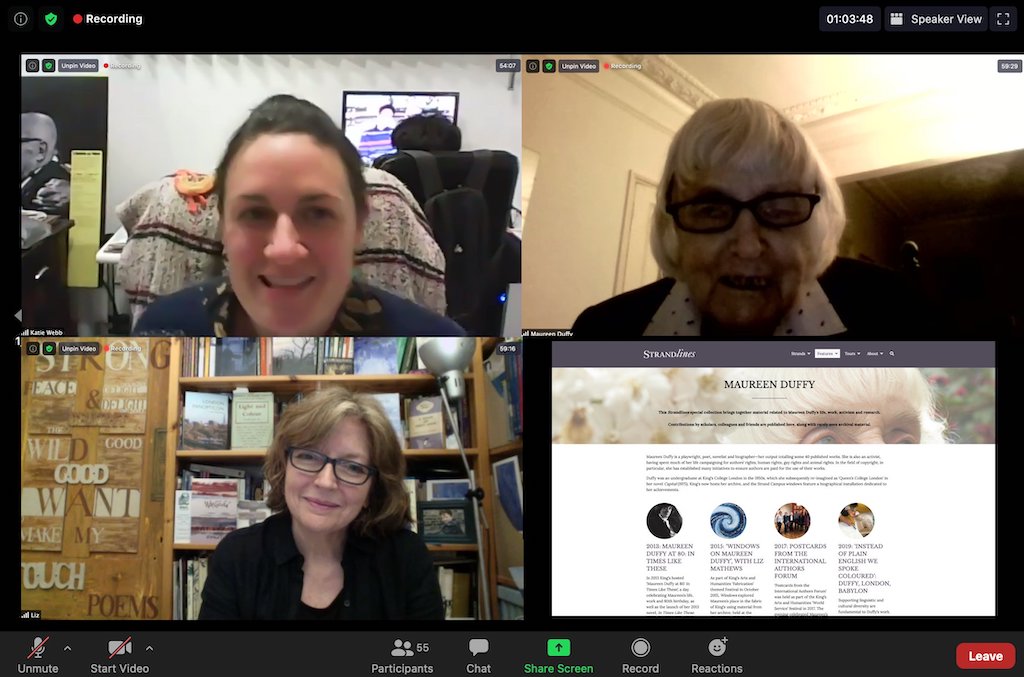 On 25th November 2020, we held an online event to celebrate the launch of Strandlines's special collection on Maureen Duffy. We heard from Maureen about her latest work; the forthcoming publication of her first children's book Sadie and the Seadogs, illustrated by Anita Joice, and her 20th novel, After Eve. Maureen also read two poems from her latest collection, published in February by Pottery Press, Wanderer.
Maureen read the title poem, 'Wanderer' and 'Mosaics', which both bring with them the historical trajectories of ancient art and literature to deal with enduring hardships humanity faces; in these poems' cases, exile and femicide. You can read about another of the poems in Wanderer, 'Mother Tongue', on the 'Duffy, London, Babylon' feature page, which recalls the 'lost language of London' and its once many-coloured dialect, and how it connects with London community initiatives at Shepherd's Bush Families Project and Babylon Beyond Borders at the Bush theatre.
Liz Mathews also kindly joined the evening. Liz is a lettering artist whose collaboration with Maureen started with an artist's book she set to a collection of Maureen's love poems, Paper Wings, which was the subject of an event at King's in 2015. Liz has set lines from 'Wanderer' to handmade paper, in an artist's book which she presented at the event, and writes about on her blog.
The evening was sponsored by La Federazione Unitaria Italiana Scrittori, and was organised by Robyn Shooter at the Centre for Life Writing Research at King's. In case you missed it, or were there and would like to relive this warm and inspirational event, the recording is available to view on the Strandlines YouTube channel.