Sculptor John Flaxman and his wife Nancy move to 420 Strand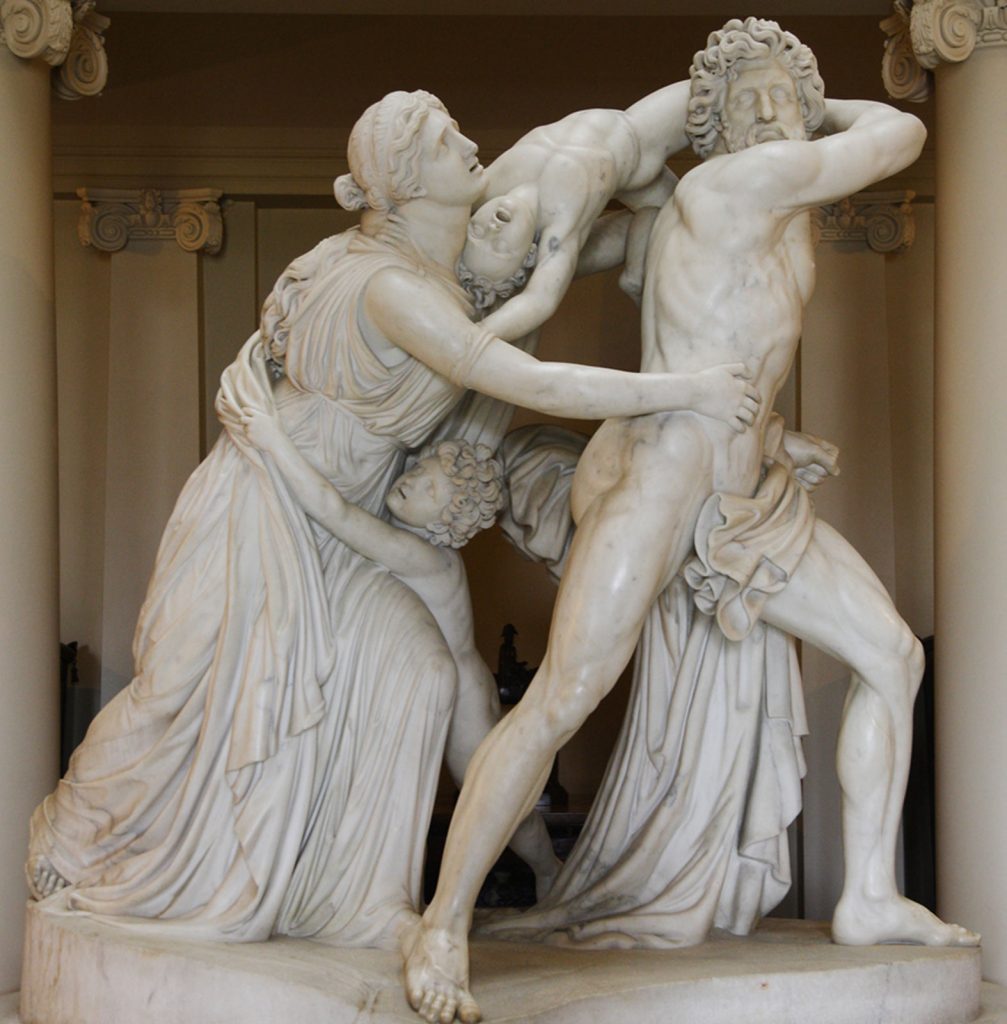 In the autumn of 1794, the sculptor John Flaxman and his wife Nancy returned from their seven-year stay in Rome. They lodged, temporarily, with Flaxman's father in his house at 420 Strand, between Bedford Street and where the Adelphi Theatre would be built a little more than a decade later.
His father, who moulded and sold plaster casts from a shop in New Street, Covent Garden, had moved there in 1775. At the time, Flaxman, then twenty, began working for Wedgwood and was already noted for his precocious talent and conceit.
The couple's stay there could only be temporary, as there was nowhere for the sculptor to work. As he explained in a letter to his friend, author and scholar William Hayley:
"You will not need to be informed by me how very difficult it is for a Sculptor to find a sufficient space of ground with Studies to exercise his profession in, all the premises in this Great Commercial City are so generally occupied at enormous rents for the purposes of Trade and Luxury"[1]
Hayley had asked the couple to visit him at Eartham House, near Chichester. In 1784, he had engaged Flaxman to fit out the library, a "new and delightful apartment, and room of thirty feet by twenty-four, completely filled with books and decorated with the sculpture of Flaxman, and the painting of Romney!".[2] Today, Eartham House is Great Ballard School; Hayley's library a common room, the Flaxman fireplace still at its heart.
The writer, the artist and his wife maintained their connection while Flaxman was in Rome, during which time Hayley also commissioned him to design the monument to the poet William Collins in Chichester Cathedral. However, future offers of hospitality from Haley were mostly declined as Flaxman became increasingly busy as a sculptor of national monuments and internationally famous for his elegant illustrations of scenes from Homer.
In 1810, he was appointed the Royal Academy's first Professor of Sculpture. He was known as a serious, deeply religious man. The artist Henry Fuseli is alleged to have left a dinner party to listen to his first professorial lecture, declaring: "Farewell, friends; farewell, wine; farewell, wit. I must leave you all and hear a sermon, the first pronounced by the Reverend John Flaxman".[3]
"We feel ourselves extremely grateful for your kind wish to receive & entertain us at the Muses Seat, believe me wished to receive your hospitality as much as you could to bestow it, but you know my dear Sir that the careful discharge of our general duty sometimes perforce teaches us to abstain for a time from the company of our most beloved friends, that when the meeting comes it may be the Sweeter – this & this only was our Motive in not coming instantly to Eartham, if your goodness understood that motive in its true Sense.
I have been seeking for a house amongst other employments, but for the present have not been able to suit myself & I apprehend my resource must be to get into the best situation I can find for the present, until I can find premises exactly to my liking by the means of public Advertisement"
But Hayley didn't only want a visit from his old friends. He wanted to apprentice his only child, Tom, to Flaxman. Flaxman was keen, and his letter continued:
"You will believe me when I tell you that I love your son as tenderly as you can wish for his father's sake & that nothing would be likely to improve that love but the intimate acquaintance of his admirable qualities, & now that you express your so serious an intention of placing your little good boy under me it is necessary that I should explain my intentions concerning him, when he is under my care…"[4]
He then sets out his priorities for Tom's education: religion and ethics before art, the former to "preserve his mind in his duty to God & his Neighbour, which cannot fail to form a good citizen & give his Mind sufficient Strength & resource for happenings under the various attacks on his peace which he must meet with in this world", and the latter to focus on "those sound principles which cannot fail of laying the foundation for an excellent practice". He also suggests living arrangements (a room in the Flaxman's home), and what he'd charge Hayley (as little as possible). But, of course, none of this could start until he and Nancy had moved from 420 Strand to their new home at 6 Buckingham Street.
---
[1] Flaxman, John, to William Hayley, letter, 29/12/1794, Fitzwilliam Museum, Flaxman-1-3
[2] Hayley, William. Memoirs of the Life and Writings of William Hayley, Esq. (London, Henry Colburn, 1784), pp. 320-321
[3] https://hayley.fitzmuseum.cam.ac.uk/news/2021-01-04-video-presentations – scroll down to watch David Bindman on William Hayley and John Flaxman, 1. Introducing John Flaxman.
[4] Flaxman, John, to William Hayley, letter, 27/11/1794, Fitzwilliam Museum, Flaxman-1-2