Community engagement methodologies workshop
Posted in contemporary and tagged with art, childhood, contemporary, death, entertainment, everyday life, family, friendship, objects, science, shopping, transport, universities, writing

On December 14th 2010 the Strandlines team hosted a community engagement methodologies workshop in the Strand Building of King's College. We invited participants to bring along objects that reminded them of their local area, home, or place of work. The aim of the final session of the day was to reflect upon the connections between objects, places and life story narratives. The session was generously led by writer and lecturer Cherry Gilchrist.
Photographs of the objects were taken and we asked everyone to answer the following questions on a worksheet provided: What is your object?; Where does it come from?; What connection does the object have to 'place': your local area, home, or place of work?; What does the object mean to you personally?
Thanks to all participants for allowing us to publish your stories here, and for taking part in the event. I have added the stories below in alphabetical order:
Contributed by Chris Andrew
What is the object? Lego style memory stick
Where does it come from? Big dept. Store on Oxford St. – possible Selfridges or John Lewis. When I saw it the rest of the shop faded – it was the coolest object & v. useful!
What connection does the object have to 'place': your local area, home, or place of work? I got the memory stick to help me with transferring files for work/personal stuff. – But I also love lego & have done since I was 5 – Lego has generally always been with me whatever place I'm in. I used to carry Lego in my pocket to school – now I have an excuse to do this as an adult! The stick relates to my work at Connections since I have lots of files related to work projects. At work I have to be able to move files from different computers & have back ups of photos/videos. I am lost if I forget to take it to work.
What does the object mean to you personally? It has personal files on it too – holiday photos & things I need to keep – A poem I wrote for my sisters wedding for example – & some pictures drawn by my nieces. I am naturally scruffy & disorganised – this little stick allows me to be neat, compact & organised! – Plus it's beautiful & has interchangeable caps – so I can change the colours – I get bored easily too!
Contributed by Adrian Autton

What is your object? USB in the form of a silver bullet.
Where does it come from? My boy but originally a promotional item associated with the film The Wolfman (a 2001 remake)
What connection does the object have to 'place': your local area, home, or place of work? Item that travels around with me everywhere. Stores my personal non work-related files.
What does the object mean to you personally? Links to my love of film and cinema, particularly science fiction, horror and fantasy genre. Also linked to interest in gothic literature.
Also contributed by Adrian Autton
What is your object? DVD titled "Charles Dickens. A Genius in the Heart of London"
Where does it come from? Westminster Archives
What connection does the object have to 'place': your local area, home, or place of work? Tells the story of Charles Dickens' life in Great Marlborough Street and his relationship with this barber William Willis. The story has been told in the form of an animation produced by children from local Soho parish school. Story that brings a historical figure to life and links past to present.
What does the object mean to you personally? One of the outcomes of a project that I had been involved with from inception, through planning stage and final delivery.
Contributed by Clare Brant
What is the object? a tiger cowrie shell
Where does it come from? the west side of the Indian Ocean
What connection does the object have to 'place': your local area, home, or place of work? It's on the shelf in my office. Shells & the sea run through my childhood & life now. I was learning about cowries this year on a reef project. Ethically it's dubious to pick up shells, even empty ones (they might be useful to hermits); I was given this one. It connects me to a place of adventure, of enquiry, of the numinous. It disconnects me from work because it belongs to another part of my life; it also reminds me curiosity & imagination go everywhere.
What does the object mean to you personally? We come from the sea, in evolutionary terms, so for me it is timeless. Shells are said to hold the sound of the ocean – a lovely metaphor for boundless possibilities held in a small space. The cowrie is smooth & fits in a palm – that's beautiful & portable. It's the only shell I have at work, when it came accidentally, & on my bookshelf it represents where it came from, where I might go…the animal whose home it was has gone, so maybe it represents something both evocation of and defiant of mortality – but also of life, since seeing occupied shells trundle along reef flats.
Contributed by Tisha Brown
What is the object? Stuffed Rabbit named Bunny
Where does it come from? Gift from friend when I was 5
What connection does the object have to 'place': your local area, home, or place of work? My father was in the US military so I frequently moved around. I went to many primary schools and "home" was always an abstract concept. However, I always had Bunny for as long as I remember. He's travelled with me to university and here to London.
What does the object mean to you personally? To me, Bunny represents home and family. As I continue to travel, I can always look at it and feel a sense of home.
Contributed by Trudi Darby
What is the object? A pencil sharpener
Where does it come from? The shop at the Courtauld Institute.
What connection does the object have to 'place': your local area, home, or place of work? The pencil sharpener sits on my desk in my office and was bought next door. King's and the Courtauld are part of the same educational space (the University of London) and the same architectural space (Somerset House). More prosaically, the Courtauld shop is a good source of emergency stationary supplies and presents. 
What does the object mean to you personally? This object symbolises my working life, which is what takes up most of my waking hours. It sits in a space which, by a serendipity of space allocations and office moves, is where I started my career at King's and to which I've returned. It pleases me that as well as a wi-fi enabled laptop, mobile phone and BlackBerry, I still need a pencil to do my job and a pencil sharpener for maintenance; and it reminds me of my time learning O level Engineering Drawing and poring over drawings with my father, as a teenager.
Contributed by Alun Edwards
What is the object? Replica station sign
Where does it come from? Honeybourne
What connection does the object have to 'place': your local area, home, or place of work? Honeybourne is where my wife and I moved when we first got married (after moving to England for work). Although we were working locally we chose Honeybourne (partly) because it has a village railway halt  on the line to London. So a potential for commuting. That same year I was made redundant, and because of the railway I was able to look at work elsewhere – got job in Oxford and I've been commuting ever since – 11 years. We still live in the village of Honeybourne on the edge of the Cotswolds.
What does the object mean to you personally? It's a symbol of my working life – where I go to catch a train for work; where I get off the train to meet the family again.  Also I've recently been told Honeybourne Station is Honiton Junction from The Archers. My Gran listened to the Archers everyday – so I love that village we live in, and I pass through a station from my childhood – even though we're actually so far from "home".
Contributed by Janet Evans
What is the object? A red necklace
Where does it come from? My friend Sylvia (via Marks & Spencers)
What connection does the object have to 'place': your local area, home, or place of work? This necklace is one that I wear a lot of the time. If it is not round my neck it is hanging off the mirror on my dressing table.  It is red, my favourite colour, but also it is made out of plastic, and the beads hang from plastic threads. It is therefore of no material value whatsoever, and I am lucky that it has lasted so many years, despite such constant use.
What does the object mean to you personally? It reminds me of my friend, Sylvia. She is an artist and always chooses brilliant presents for me – despite the fact that I'm rubbish at choosing presents for her  (or anyone else actually…) It is the right size for my neck – not too long – and covers ever increasing circles of wrinkles. I think it looks like blood; but also like rubies. It adorns me, and fits in with my wardrobe and my lazy life style.
Contributed by Nicky Getgood
What is the object? A stuffed toy dog with a big round tag on it with a label sellotaped on: "£3.00 MR RALPH"
Where does it come from? Mr Ralph the Peddlar, who goes around the Digbeth pubs with suitcases full of bulk-bought small goods (handkerchiefs, batteries, dishcloths, toys, etc.) to sell.
What connection does the object have to 'place': your local area, home, or place of work? Mr Ralph is a Digbeth institution – an older Irish gentleman who goes around all the wall pubs regularly with suitcases full of his own Mr Ralph branded goods (he bulk buys them and labels them up MR RALPH style himself). The pub landlords are very used to him and often give him free drinks and meals.
……………..
Contributed by Connie Golstejn.
What is the object? Pocket knife
Where does it come from? Sittard – the Netherlands
What connection does the object have to 'place': your local area, home, or place of work? I've always been in a scouts group and at some point I got my first pocket knife, which was one with multiple tools in it. When I got older I wanted one with just a good knife, as my dad used to have with him all the time. My dad got this one for me and it goes wherever I go. I always have it with me and use it for everything. So in terms of place it reminds me of my scouts group at home in the Netherlands, of camp weeks with the group abroad, of home (through my dad and the way I use it at home) and of all the other places I took it and used it. It connects where I am at that moment to all previous places I have been with it.
What does the object mean to you personally? This knife connects me to the memories of where I've been with it and gives me the idea of always having a tool to do all kinds of things with. My dad uses his knife for everything so I guess that rubbed off to me: taking care of myself with good material. I wouldn't want to lose it.
Contributed by David Green.
This painting was donated to the Geography Department by Ruth Sekyi in 1988. Ruth studied at King's between 1985 and 1988 but died tragically young in car accident shortly after completing her studies. The painting is very much in keeping with Ruth's character – totally positive, full of energy and laughter but with a hint of seriousness. She was a great student in every respect and a lovely person.
…………………….
Contributed by Zoe Laughlin
What does the object mean to you personally? I don't want a photograph of my objects taken, nor do I want to be recorded talking about them. I will show, tell and demonstrate here and now but the reason I've chosen them has to do with their material object here-and-now-ness so recording will not do.
–                      (I am happy for someone who witnessed the show and tell to report/describe.)
…………………………
Contributed by Patricia Methven
What is the object? A shelf that was once a desktop, that became scrapwood in the carpenter's pile and now is an archival object.
Where does it come from? The college vault at King's College London via the carpenters' workshop
What connection does the object have to 'place': your local area, home, or place of work?When I first took over responsibility for the College Archives there were practically housed in a chaotic vault that included sacks of returned cheque books back to 1829. In 1980 we cleared it out and modernised. The carpenters then a group of lovely gentle giants gathered up the wood that they thought might be useful. They were excellent at making and mending. As time passed they mostly retired and the last woodheap was to be disposed. One spotted all the graffiti and offered it back to the Archives. The graffiti dates from 1865-1909 as we can trace the stories of many of the individuals from King's College School, then in the College basement. One for example, E.E. Gunter (born in 1873), inscribed his name in his first year 1888. After school he qualified as an Engineer and worked in India and the Persian Gulf in telegraphy. He saw service later in the NW Frontier and First World War. He died in 1935.
What does the object mean to you personally? It brackets 30 years at King's and grows in appreciation of the ordinary, the commonplace & the disregarded. It reflects how Archives are not static or defined by a one-off catalogue description but defined and understood by changing contexts. The carpenter also reminds me of my own father, an inveterate collector of useful pieces of wood.
Contributed by Max Saunders
What is the object? A shard of Parian marble
Where does it come from? A mineshaft on the island of Paros
What connection does the object have to 'place': your local area, home, or place of work? In a way it's a history souvenir, rather as you might pick up a shell on a beach. This was picked up from the floor of a long sloping tunnel from which the marble was mined. I've kept it on my mantel-piece ever since…about 1983.
What does the object mean to you personally? I love the contrast between the rough, glistening crystals and the smoothness of the carved, polish surfaces of the sculpted marble. I find it fascinating how this small island became famous as the source material for sculptors all over the world. I suppose it represents potentiality – the idea sculptors speak of, of seeing a form that needs freeing from the block.
Contributed by Jocelyn Spence
What is the object? Toy Snoopy car (with actual rolling wheels!)
Where does it come from? Stinson Beach, north of San Fransisco
What connection does the object have to 'place': your local area, home, or place of work? I found him when I was very young on a day at the beach. Even though he was scratched and beat up when I found him, I adored him and played with him all the time to the sometime exclusion of nice, expensive toys. I've kept him out or on display everywhere I've lived (which is a lot of places, at least 19 of them). 
What does the object mean to you personally? Irrational attachment, unconditional love – liking something for no particular reason and being OK with that.
Contributed by Lucy Steggals
What is the object? A Time Out 2010 Diary
Where does it come from? My handbag. It goes with me everywhere.
What connection does the object have to 'place': your local area, home, or place of work? It's not strictly connected to 'place' it is a place to put down places where I should, need or want to be. A 'place' to map out morning, day and night 365 days a year. It's a system of attempted order but relative disorder & starts on the 1st of June because the first one of the year was robbed from a bar in Old Street. I have them all in the same size but different colour ways from the last seven years. At the end of year I file the old and get the new one. Every year it's the same they start neatly written, ordered with small text contained well within the lines. As time goes on the handwriting becomes more and more erratic the state of the text alters. In extreme cases tippex is required in order to return the diary to some sort of legible state. There are systems and codes contained within it that would make sense only to me. Red crosses relate to days invoiced for as a freelancer this means I can track how many days on any given week I have been paid. In the back there are lists often shopping lists, the spine is broken and the address book is empty. I like that all the days of the week can be contained in one page divided on Thursday. It means in one glance you can get a sense of how the whole week looks it keeps you grounded.
Contributed by Isobella Stewart
What is the object? Pheasant feather
Where does it come from? Initially Croftcat Cottage, Perthshire, Scotland. Latterly now home – wherever it has been.
What connection does the object have to 'place': your local area, home, or place of work? This feather is one of several which sits in a venetian glass jar on my windowsill. It used to be on the cross member of a sash window at Croftcat Cottage. I spent my childhood summers there from the ages 7 -17. The jar & feathers belonged to the brother, known as uncle John, of my late grandfather who died before I was born. He cleaned his pipe with the feather stems. When he died I was 16, his son Charlie & his son's wife continued to live in the house. When Charlie died his wife moved into a Home. I was allowed to choose a momento. I chose the glass vase – which by this time was bereft of feathers. I do not know how the vase came into the family in the first place & speculate that someone in the family, or maybe one of the employers of them – they were all gamekeepers, made the Grand Tour & this was a momento.
What does the object mean to you personally? To me this object is redolent with meaning. The security of being loved within this family which was not my nuclear one. Uncle John's personality is brought to mind, as well as Charlie & his wife. When I move house which I have often done  – I feel unsettled until the glass jar is located & placed on the window sill.
I bought the feathers at a car boot sale in Kent. They now sit within the glass permanently.
Contributed by Jack Sultoon (written before the event)
When we first moved to Finchley from Hampstead Garden Suburb some 32 years ago, it was the closest area to Hampstead & Highgate that we could afford to own a property in. So for many years we were focused and geographically orientated as a satellite to Hampstead.
As our children picked up local information from their schools & Margaret Thatcher who was MP of Finchley was elected as Prime Minister, Finchley became important to us in its own right.
Many characteristic local objects are fixed, like the statue called La Delivrance or the Naked Lady marking the entry to Finchley commemorating a defeat of the German Army in 1914. There is also the experimental farm just next to the Naked Lady and Avenue House, which was originally the home of Inky Stephens, the man who invented blue-black ink and the old graveyard next to the library with gravestones from the 1700s, mostly shifted from their vertical positions by tree roots taking over.
We live in Finchley Church End which was originally a farm and despite massive construction of homes in the 1920s is still very rural, with masses of trees. The previous and original owners of our house told us that at one time one could hear nightingales in the garden. Up to 5 years ago I could also hear owls, but sadly all that has now disappeared. The garden however occasionally reveals some secrets and recently I dug up and object that looked like a bone which excited me greatly, although after cleaning, an archaeologist friend of mine who has spent much time in Southwark, identified it as a clay pipe & said that these were very common in the past. Was this the property of a farm worker? I am tempted to get a metal detector for more finds.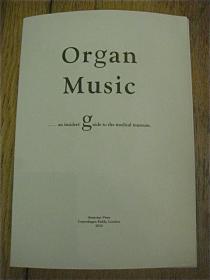 Contributed by Ruth Richardson
What is the object? An essay I wrote called 'Organ Music'
Where does it come from? From the depths of my soul…but also from careful research, historical knowledge, concern, trying to make sense of medical museums, and my feeling their specimens represent people.
What connection does the object have to 'place': your local area, home, or place of work? I'm a historian of death & anatomy, & the essay concerns the life of specimens, their humanity. It was written initially as a 'filler' in a book, but I have recently decided to print it myself as a separate object. I am pleased with it partly because it was printed in a tiny printer's workshop in Long Acre, which I can see in my mind's eye when I think of it. But most of all I think of the medical museums I visited during the research for it. It is full of life stories – Londoners through & through. Some of the research was done in the wonderful Gordon Museum at Guy's.
What does the object mean to you personally? I am proud of it. I think it is the best thing I have written. I have donated some to the Old Operating Theatre, to sell, for the benefit of their lovely museum. It is a pleasure to give them to such a place.
Contributed by Hope Wolf (written prior to the event for demonstration)
What is your object? A bag of lavender
Where does it come from? Hackney
'What connection does you object have to 'place': your local area, home or place of work? I am never sure whether or not this is a local myth, but I have heard that the houses of Hackney are plagued by moths. Following my ex-landlady's extermination of the moths in my ex-house, I wondered whether I got my victims and villains the wrong way round: perhaps moths are plagued by people. With gluey pheromone-smelling patches, blue-tacked to the wall, my house moths literally met their sticky ends.
I moved house just before this happened. Against the better interests of my woolens, I pitied my late co-habitors, and almost hoped that I had exported a few to my next abode, also in Hackney. I had done so before. To introduce a rather unpleasant Strand line I remember how one day, at King's College, whilst giving a lecture in First World War Literature, I watched as a moth slowly appeared from the scarf I was wearing – perhaps it had recently hatched – and fluttered to the welcoming shoulder of one of my students. As we had just been reading Rosenberg's 'Louse Hunting', my moth's performance seemed embarrassingly appropriate.
Visiting the Strand, at that time, two or three times a week, I wonder if I brought any more Hackney stowaways to the area. I wonder if any of my moth's descendents remain?
My new Hackney abode, I feel compelled to mention, is now moth-free. There are two reasons for this. The first is that I put all my worldly goods in the freezer. The second is that I have deterrents. The pretty little bag that my friend gave to me is full of a substance terrible to moths, but pleasant to people, particularly (so it is said) to the older generation.
What does the object mean to you personally? The bag of lavender does not merely spell out the end to my encounters with, and exportations of, moths. It is a symbol of friendship. There is something very lovely about an object that someone has made, rather than bought, for you. I love the fact that my friend chose the material; that she picked the lavender; that she made the bag following our many half-joking, half-alarmed, conversations about my unwelcome guests. Her small gift not only protected me from them, but – making other destinations more appealing – protected them from me.
I no longer see moths in Hackney; I no longer see them on the Strand. But I think I see them all the time. Perhaps I miss them.
I have told the 'moths at the lecture' anecdote many times. It is hard to say why. Whilst it may be better to call a moth a moth, I wonder whether the anecdote acts as a metaphor in some way; at times it seems to speak of a perception I frequently have of myself: of bringing something unkempt to a pristine place. Thinking along these lines, could the lavender bag ward off more than just moths? There's also a creepy crawly part of myself to be kept at bay.
If you would like to take a photograph of your own object, and add a caption to the site, simply join Strandlines Digital Community, log-in, the 'add a strand'!
A note from Cherry Gilchrist (Life Story facilitator and author of Your Life, Your Story)
For me, the session was a delight to assist with. I've learnt that when it comes to asking people to show personal objects and talk or write about them, a wealth of fascinating stories spill out. They arouse a whole spectrum of emotions, and can be touching, funny, or heart-breaking, as well as inspirational. The Strandlines seminar has produced some wonderful narratives; it's been great for me to read them on this page as well, since we didn't have time to listen to everyone's contribution on the day. I hope that more of you viewing 'Connecting the Strands' will feel moved to put up a photo and a story of your own object.
Running a similar session: if you find yourself able to do something similar in with a group to do, the basic requirements are quite simple. Ask everyone to bring an object (or at least a photo of it – but the real thing is better). Then establish trust, by encouraging an atmosphere where participants feel relaxed enough to talk about something special to them. One way of doing this is to have some preliminary discussion about life stories and memories. Following this, suggest that they write down their stories. Using key questions is helpful, as we did here, to keep it within bounds. Then, if time permits, ask people to talk about their objects to the rest of the group. You should then find that the stories will pour out in a magical and often delightfully unpredictable way!