Dan Kirmatzis: Strand series
Posted in 21st Century, coffee and tea houses, contemporary, people, Public art, restaurants, shops, Stories, Strandlines, streets and roads, workers and tagged with 35mm, analog, analogue photography, candid photo, central London, film photography, London by Londoners, London style, Londonist, Photography, Street photography, Westminster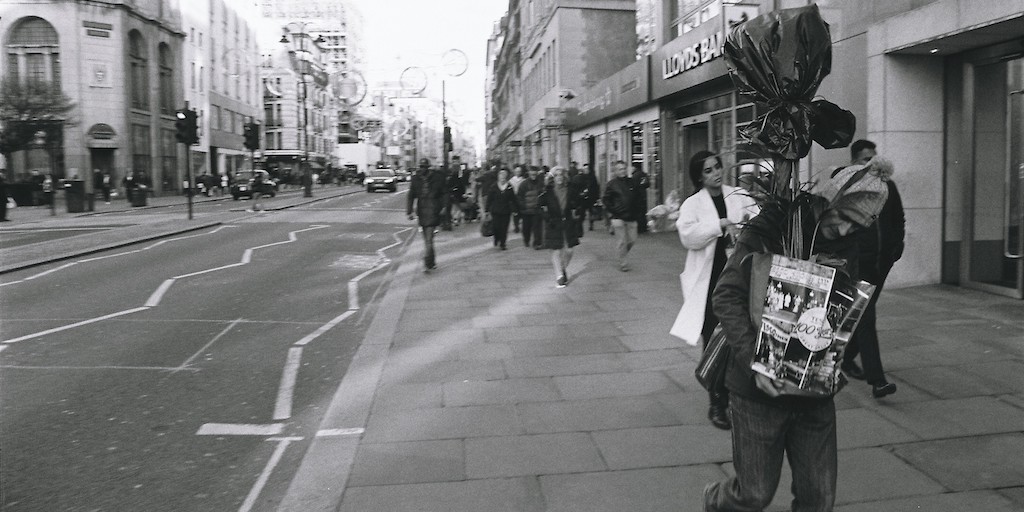 The Strandlines team periodically check in on photos tagged to the Strand (and surrounding areas) on Instagram and Twitter. We came across Dan Kirmatzis's work on Instagram. A huge thanks to Dan for so generously sharing his photographs and insights into his inspiration and processes.
"Although I take many photos in the street genre style, I would describe myself simply as a photographer. The medium of photography lends itself to categorisation, so I'm often asked if I'm a portrait-, street-, documentary-, or still-life- photographer.
Whilst my preferred medium is portraits I really take photographs of many things. My Strand series was started after I moved jobs in 2019. Between 2016-2019 my lunch-time walks consisted of taking photographs along Piccadilly but when I moved south of the river I needed a subject closer to my new office.
After walking across Waterloo Bridge one lunch-time and proceeding down the Strand my retina was immediately alerted to this great area – a place full of history and characters – but often overlooked as a subject for photographers. So I started to document the plethora of life on the Strand – from couple's embracing, to people having casual conversations to people sitting in coffee shop windows watching the world go by.
I am a huge fan of a number of photographers whose bodies of work falls into the street photography category including Gary Winogrand, Vivian Maier and Joel Meyerowitz to name just three. Unfortunately Covid-19 was spreading across the world just as I was hitting my stride with the project and has been – I hope temporarily – interrupted but it may also now never be completed.
Even if I did restart the project, these images presented here will remain a time-capsule of a pre-pandemic world.
They were all taken on an Olympus OM1n camera with Kodak Tri-X 400 film."
All photographs are copyright Dan Kirmatzis 2020. http://dankirmatzis.com @dankirmatzis on Instagram and @dankirmatzis on Twitter.
---