People of the Strand: Jonathan Sisson (1692 – 1749)
Posted in 17th Century, 18th Century, galleries, people, Stories, Strandlines, workers and tagged with Clubs, design, Freemasons, History, London, Societies, Westminster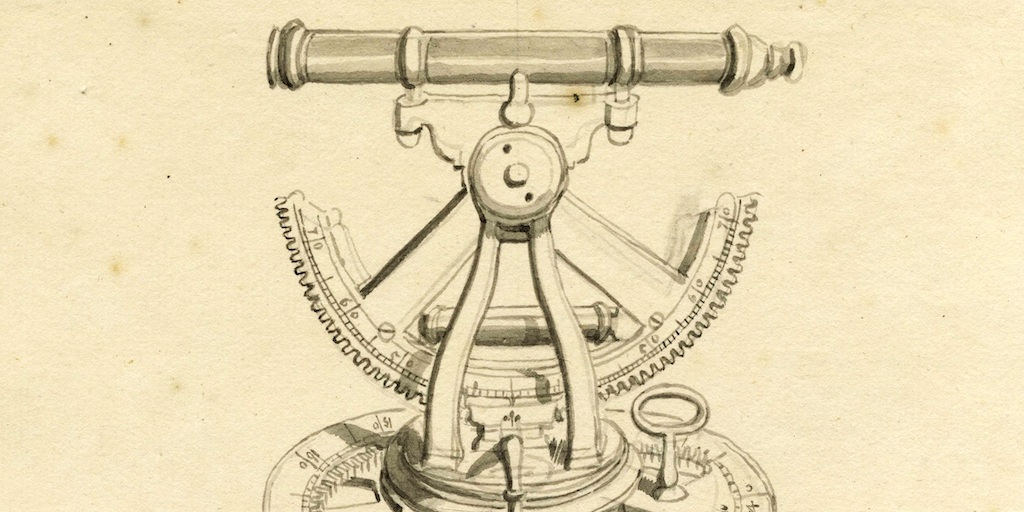 Jonathan Sisson established a scientific instrument making business at the corner of Beaufort Buildings in the Strand, London. The attic rooms included an observatory, the exterior visible in a drawing by the freemason, Thomas Sandby.[1] Sandby was the architect of the first Freemasons' Hall on Great Queen Street, which was completed in 1766. For many years this building served as London's largest secular meeting venue.
Eminent astronomers visited and made observations at Sisson's observatory off the Strand, working with him to develop and improve numerous scientific instruments. Sisson made several telescopes used at the Royal Observatory, Greenwich. He was appointed as mathematical instrument maker to fellow freemason, Frederick, Prince of Wales in 1729.
Born in south Lincolnshire, Sisson was orphaned by the age of twenty. He served his apprenticeship as an instrument maker with George Graham (1673 – 1751) in London. Sisson married Sarah Ayres, the sister of his apprentice, Benjamin Ayres and the couple raised four children.
Sisson employed several apprentices and craftsmen at his premises near the Strand, including the astronomer and freemason Thomas Wright (1711 – 1786). Wright was a friend of the antiquarian, physician and clergyman, William Stukeley, who pioneered archaeological excavations at Stonehenge and Avebury. Like Sisson, Stukeley also spent his early life in south Lincolnshire.
Sisson was also an inventor, engraver, publisher and book seller, and sold surveying instruments and globes from his London shop, adding an innovative telescopic sight to the altazimuth theodolite. Theodolites, as defined by the Science Museum, are 'instruments for measuring angles both in the horizontal and the vertical and have been widely used in surveying since the 16th century'. Sisson's telescopic addition enabled land surveyors to take readings over far greater distances. A prototype drawing for the theodolite survives in a William Stukeley manuscript in the collections of the Museum of Freemasonry.[2] Furthermore, a sundial signed by Sisson survives at Burghley House, Lincolnshire and provides evidence for a close relationship between Sisson, Stukeley and the Cecil family.
Sisson was a member of a lodge meeting at the Fountain Tavern on the Strand, London, where his friend Stukeley was a Past Master. This Lodge, now known as Royal Alpha, continues to meet at Freemasons' Hall. Sisson used his technical skills to make sets of  jewels, the badges of identity worn by freemasons and lodge officers.
The oldest silver collar jewel in the collection of the Museum of Freemasonry is inscribed with Sisson's early trade mark, I Sisson Fe'c[it], on the reverse.[3] As Sisson's business reputation and success developed, he updated his trademark to, J Sisson London.
The jewel includes a suspended geometrical design, known as 'the 47th proposition of Euclid'. This ratio, developed by the Ancient Greek mathematician Euclid, helped masons cut stones accurately using tools such as a square and compasses. Representations of these architectural tools are used in ceremonies by freemasons as emblems to teach symbolic lessons.
The geometrical symbol was added to this piece at a later date, transforming the badge of identity from a Master's jewel into a Past Master's. Sisson visited a Lodge meeting at the Swan and Rummer Tavern, Finch Lane, London and agreed to supply them with a set of silver jewels in cases. [see image attached] Details about this transaction are recorded in the earliest surviving Lodge minute book but it is likely that Sisson was making Lodge jewels from the early 1720s:
'July 12 1727 Received the sum of one pound sixteen shillings and six pence in full for a set of silver jewels in cases by me Jonathan Sisson'.[4]
Other early visitors to this Lodge included the engraver John Pine, responsible for the frontispiece of Anderson's Book of Constitutions, freemasonry's first rule book published in 1723.[5]
The lodge was constituted in 1726 by the natural philosopher Dr John Theophilus Desaguliers, who assisted Isaac Newton at the Royal Society. It met at the Swan and Rummer and later joined forces with another lodge.
By the early 1750s this lodge ceased to meet and its number was given instead to Lodge of Philanthropy, Stockton-On-Tees, Durham. Although the Stockton lodge stopped meeting in 1838, Victorian historians rediscovered this important minute book at the local Freemasons' Hall.
The Sisson jewel design is similar to lodge collar jewels worn by Past Masters today. Most are made of steel and other hard-wearing metals. Today such jewels are produced by regalia manufacturers such as Messrs Toye, Kenning and Spencer rather than bespoke craftsmen. The Sisson jewel represents a significant link between the origins of freemasonry and London's Strand in the early eighteenth century.
Susan Snell
Archivist and Records Manager
Museum of Freemasonry
---
References
[1] British Museum, Prints and Drawings, ref: 1880,1113.2854 https://research.britishmuseum.org/research/collection_online/collection_object_details.aspx?objectId=751261&partId=1
[2] Museum of Freemasonry, London, ref: 1130 STU fol. https://museumfreemasonry.org.uk/
[3] Museum of Freemasonry, London, ref: M2015/1285, on display in the North Gallery, Museum of Freemasonry, see https://museumfreemasonry.org.uk/index.php/whats-on/three-centuries-english-freemasonry
[4] Minute book of Lodge meeting at the Swan and Rummer, on display in the North Gallery, Museum of Freemasonry, see https://museumfreemasonry.org.uk/index.php/whats-on/three-centuries-english-freemasonry
[5] The constitutions of the Free-masons : containing the history, charges, regulations, etc. of that most ancient and right worshipful fraternity : for the use of the lodges, on display in the North Gallery, Museum of Freemasonry, see https://museumfreemasonry.org.uk/index.php/whats-on/three-centuries-english-freemasonry  For more information about the history of the Book of Constitutions see https://museumfreemasonry.org.uk/stories/illustrated-rivalry