Voices from the Strand – Dr. Geoffrey Browell @ King's College Archives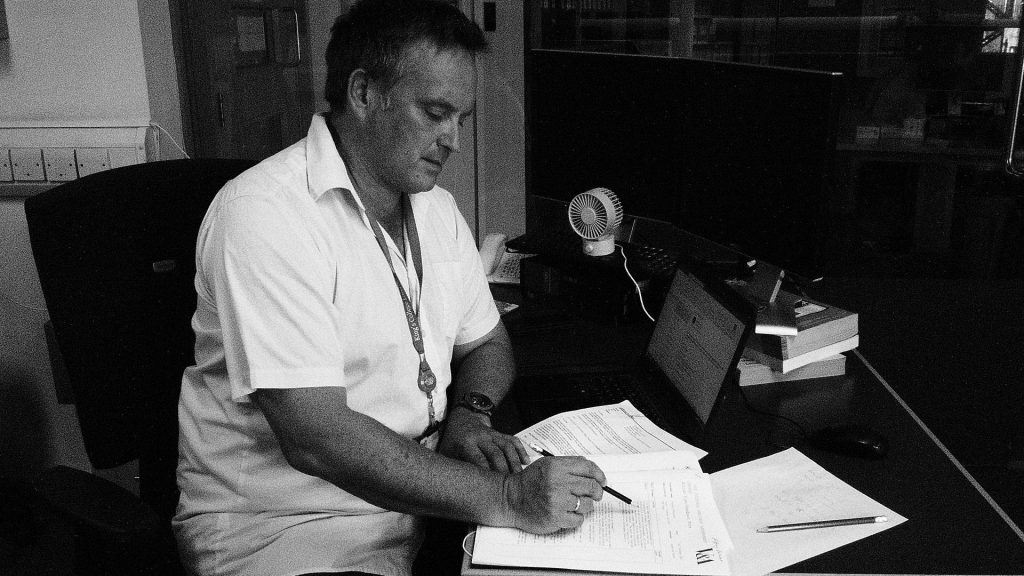 A week in the life of an archivist
I sometimes get asked what an archivist does, exactly? That's if it's not confused with the job of an archaeologist or architect! Archivists come in different shapes and sizes depending on the sector and the type of information that they curate: I am a university archivist at King's College London, and this has its own unique challenges and opportunities such as working alongside amazing colleagues. What archivists have in common is the ability to solve a huge variety of problems at speed. As such, we are the Swiss Army Knives of the heritage and information professions.
Archives are a permanent record of the past – whether 500 years ago or yesterday – and of the lives of people and organisations. In fact, I like to say that the profession is more about people and their stories than about paper and data. Good archivists listen and counsel.
We often help the bereaved or vulnerable who are bequeathing papers, or support busy academics, journalists or members of the public unfamiliar with the work we do. We fix, connect and broker relationships to make new knowledge and support the social good.
I am the Head of Archives at King's, which is part of the Libraries & Collections Department, and I am on the Senior Management Team, with a range of broader responsibilities beyond managing the Archives that have increased with the organisational difficulties of dealing with the Covid pandemic. We are a small team of five, based in the Strand, and the work is very hands on. While each of us has a focus, everyone does a bit of everyone else's work whether it is taking turns on a rota to run a public reading room for researchers, travelling to acquire new collections, planning and carrying out digitisation, teaching, fundraising or public engagement.
Wider responsibilities include contributing to the broader Library rota pool at weekends and evenings to support student study, deliver guided tours for new staff and students, VIPs, alumni and donors and managing the College's digital asset management system that supplies images for marketing and promotion.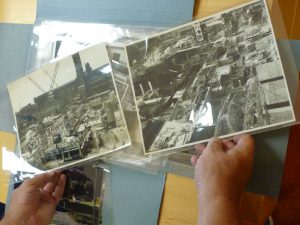 Our collections are amazingly diverse. We hold the institutional records of King's going back two hundred years, and also Guy's and St Thomas' Hospital Medical Schools in the 18th century of key staff and research teams, like the one that discovered the DNA double helix in the 1950s.
We are also a leading repository of modern British military archives – 800 personal papers and counting of many of the pivotal actors of twentieth century war, Cold War, Empire and decolonisation. These voices are the raw material of innovative teaching – like a new course on 'colonial King's', research into health, culture or conflict, engagement with schools, local communities and charities, and promotion through social media, exhibition or partnership.
The pandemic has meant that we are not all in the office at once and some working from home has been essential. Home tech is vital, including access to databases normally only available on site, and we are lucky the Covid pandemic didn't happen a decade ago or commuting into work would have remained the norm. We are currently open for King's students and staff to consult documents for just two days a week – down from five because of social distancing. We used to welcome researchers from across the globe to our busy space, but currently this isn't possible.
Tasks include answering often detailed historical enquiries and undertaking reprographics to send scans internationally, to organise the loan of archives to exhibitions, or to clear text for publication. We need a good understanding of copyright and data protection, too, to ensure we stay within the law.
We prepare all the material used for on-site readers, making suggestions and helping with online study skills, and we invigilate the reading room – archives are unique, often fragile and need special handling – so we need to keep a close eye on the process.   Then there is practical stuff looking after the conservation of the collections like the right environmental measures, CCTV, online catalogues, packaging and digital preservation – an often costly and complex task that is taking up more and more of archivists' time as the struggle to curate the present.  One of the most interesting national digital projects is the preservation of the ongoing history of the pandemic – for example through Twitter, blogs, emails and websites. Without this important work, there will be a big gap in our collective memory in future.
Most archives have cataloguing backlogs of new collections. These can often be very long as the process of archive cataloguing is different to that of books and very much a matter of organising and contextualising often very complex, incomplete and disorganised collections of papers, files, photographs or digital assets like emails, blogs and websites. In an average week, we get little chance to catalogue – this usually needs time set aside and ideally a dedicated cataloguer. This in turn requires actively fundraising, writing bids and forming alliances with other archives to work together to catalogue, preserve and digitise our history. I am always preparing at least one ongoing application with a view to raising new money.
We are very active acquiring new collections – few archive institutions stand still – and the negotiations with depositors can sometimes take years to conclude. One of the highlights of my job – and it is a real privilege – is to travel the country to visit and collect new archives.
In recent years some of these have included new photographs of Lawrence of Arabia in the bat-dropping filled attic of a country house; the papers of the dead Admiral who invented the underwater ejector seat in the loft of a house made from the timbers of an eighteenth-century ship; or the lost correspondence of the film director, Lindsay Anderson in a cellar in north London.
Some teaching normally forms part of the average week. This is all done online now, engaging with students with live 'close ups' of archive documents that we contextualise and present for study. Nothing can beat getting up close and personal with original documents, though!
Outreach is vital to promote the use of archives. These range from papers at conferences, to podcasts and arranging concerts to reinterpret our stories. In recent years, for example, we organised a concert celebrating the music of a Romanian composer that required me to figure out how to get a Steinway concert grand piano into the first-floor chapel; a research visit by the actor, Nicole Kidman and the cast of a West End play; a festival of science history in association with the City of London, an international poetry festival and the development of a play drawing on historical, colonial, archive collections to help train army officers serving in Afghanistan. These events take a lot of organising!
Scholarship – using our collections to make new knowledge and carry out academic research – is now very much part of the work of a university archivist. This is often done in collaboration with scholars, digital humanists and artists from King's, other universities in the UK or abroad or in liaison with London galleries or museums. Recent projects have focused on researching Jewish history in London, the innovative use of technology to make the internet 'smarter' and with volunteers to transcribe archives and research the lives of the first professional nurses. I sit on the umbrella Research Libraries UK committee that helps with digital scholarship advocacy across the sector, and chair the London-wide charity, AIM25, a consortium of the archives of 150 cultural institutions across the capital that devises projects to use and promote collections.
Management of staff takes up a lot of time, with a weekly operational Teams meeting and fortnightly one on one meetings and twice-yearly personal development reviews. Getting permission, when possible, for replacement archivists, selection and induction can be very time consuming and potentially take months, with many forms to fill in and processes to understand.
The job is hectic and fully of unexpected challenges but never dull!
By Dr. Geoffrey Browell
To learn more, please look at our online exhibitions or explore our catalogues:
https://www.kcl.ac.uk/library/collections/archives
https://www.kcl.ac.uk/library/collections/digital-scholarship
https://kingscollections.org/exhibitions/home
https://kingscollections.org/catalogues/home